Risks in Emergency Medicine: Contributing Factors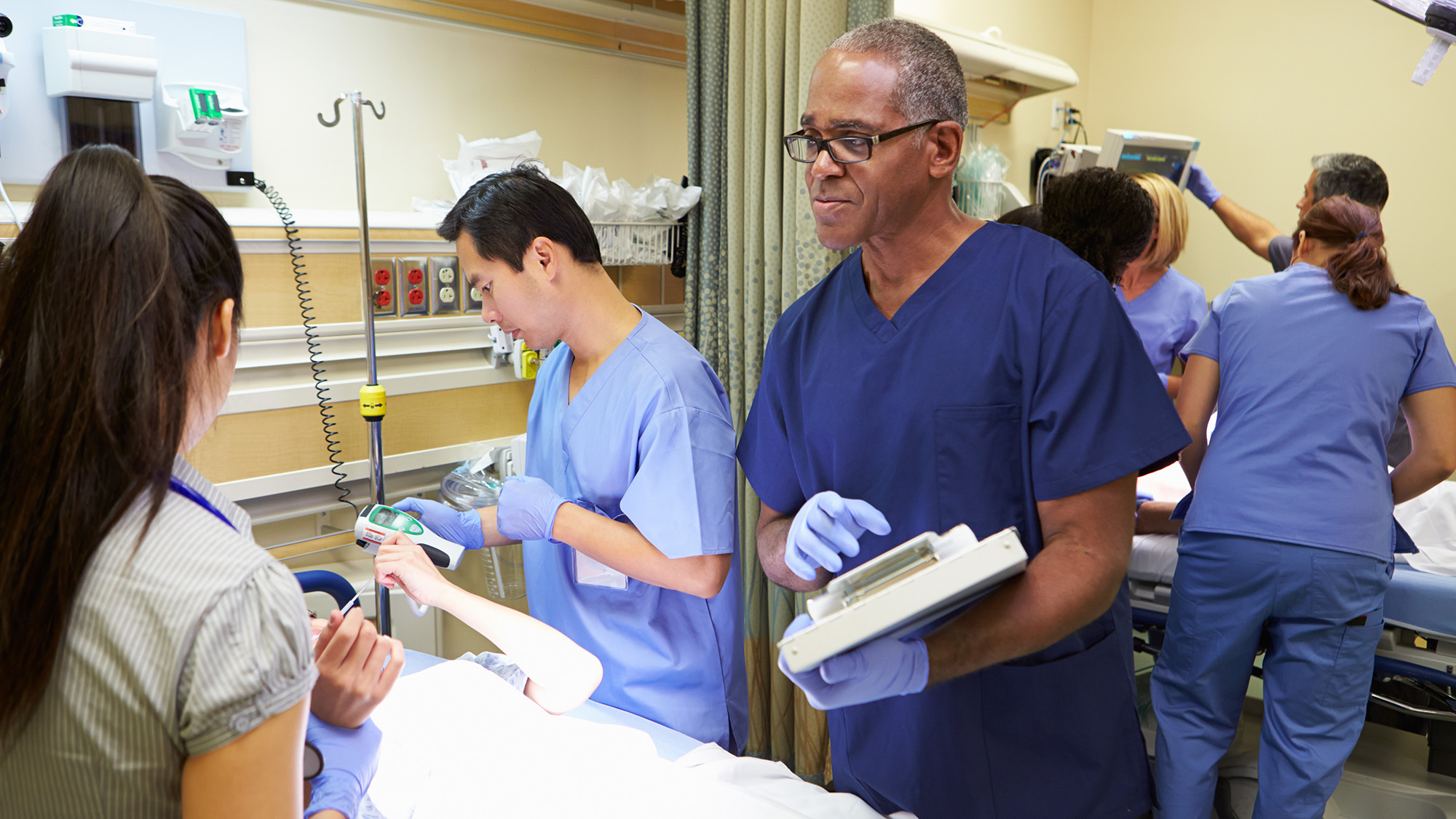 What's My Risk?
Deep analysis of more than a decade of medical professional liability (MPL) cases reveals that those involving Emergency Medicine (EM) clinicians are most commonly related to missed or delayed diagnoses. In fact, rather than encountering patient safety breakdowns amidst the chaos of an acute trauma, EM providers are more vulnerable while diagnosing and treating patients under less dramatic circumstances. Nearly three-quarters of EM cases involve a misstep in the patient assessment process.
As an Emergency Medicine clinician, your goal is to deliver the highest-quality care for your patients. Yet in the fast-paced world of a complex health care system, things sometimes don't go as planned. When oversights or errors occur, patients may be put at risk, and you may be named in a medical malpractice claim or lawsuit. In fact, EM physicians are more likely to be named in a malpractice case than the national average for all physicians.1 Further, in just over half (54%) of all medical malpractice claims that name an EM physicians, serious injury or death has resulted.
To help mitigate associated risks with this specialty, CRICO conducts detailed analyses of its national (Candello) MPL database and works with Emergency Department (ED) leaders and Emergency Medicine practitioners to established opportunities to address the key factors commonly seen in MPL cases that stem from care in the ED setting. This includes teamwork training, risk assessments, and case-based education for EM residents.
Identify Key Vulnerabilities
Whether you are insured by CRICO or another MPL underwriter, you can protect yourself—and ensure the best outcomes for all involved—by taking the time to understand the most common risks seen in cases filed against Emergency Medicine clinicians. Candello data captures 30 percent of all medical professional liability cases across the U.S., providing a wealth of data that can help you identify your specific areas of malpractice risk. Using that same data, CRICO has also developed risk mitigation resources intended to offer EM clinicians concrete opportunities to improve their safety profiles.
A unique and highly-detailed component of the data is a capture of the clinical and practice environment issues that had a direct impact on the events that triggered allegations of malpractice. Knowing and exploring those contributing factors offers direct guidance for reducing the risk of patient harm and best practices for avoiding, or defending, an allegation of substandard care.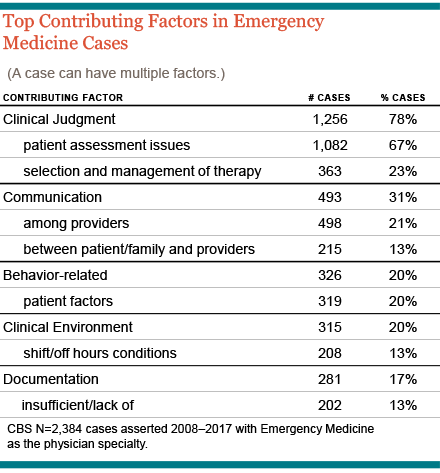 Details on Top Contributing Factors
A continuous flow of (generally) unfamiliar patients, often with inaccessible records and incomplete recall of their medical history, make the ED an extremely challenging setting for the diagnostic process. Two-thirds of MPL cases brought on behalf of ED patients involve one or more missteps in the assessment phase. Those gaps in knowledge are easily exacerbated by inadequate communication—among providers and with the patient (or family)—and often lead to misdirected or mismanaged care plans.
Inadequate Patient Assessment: In the

ED

setting, failure-to-diagnose cases typically involve a narrow focus, inadequate appreciation of signs/symptoms, the failure to order a diagnostic test or imaging, or misinterpreting or misreading the results of ordered tests—or a constellation of assessment missteps.
Selection and Management of Therapy: About one-quarter (23%) of

EM

cases allege that the patient's therapeutic course was inappropriate for the patient's condition— or was appropriate, but lacked urgency or follow up. Such errors often stem from an unclear or errant diagnosis.
Miscommunication: One in five

EM

cases reflects a breakdown in communication among providers and one in eight involves poor provider-patient communication, especially regarding critical information about the patient's progress, status, or underlying risks. While provider-provider miscommunication occur in all clinical settings, the consequences of missing or misunderstood information during an Emergency Department visit can confound subsequent caregivers (both professionals and family members) and may set patients onto a dangerous trajectory.
How to Protect Yourself and Your Patients
You can take a number of steps to mitigate the risk of an adverse event involving one of your patients.
Get Better as a Team: All emergency care providers benefit from a shared understanding of roles, expectations, terminology, and optimal communication/documentation practices. Comprehensive, repeated, and flexible teamwork training is a key strategy for reducing

EM

-related risks. One of the most effective ways to drive home your vulnerabilities is to simulate events drawn from an actual

MPL

case (not necessarily from within your organization). As with most simulation-based training, the greatest lessons emerge from the post-simulation debrief.
Support a Culture of Safety: Adopting and implementing communication best practices demonstrates to all providers who enter your

ED

that it is a collaborative care environment which respects your patients' rights to make decisions regarding their well-being and all of the individuals involved in their care.
Step-by-step Improvement: Explore the steps within the diagnostic process of care to see where your

ED

is most vulnerable. Targeting specific opportunities for improvement is more fruitful than broad commitments to "do better."
Think Ahead: Many

ED

patients who allege medical malpractice suffered, or discovered, their undiagnosed or nosocomial injuries after they had left the emergency care environment—either at home or in a subsequent care setting. An organizational assessment of discharge processes (e.g., instructions, delayed test results, follow-up protocols), clinical handoffs, and the management of patients who return to the

ED

for unresolved issues, can identify potential pitfalls for patients who require some form of ongoing care.
Learn More
By using the Candello data and best practices to drive your actions, you can close the gaps in your current processes. This will enhance a culture of safety for your patients and reduce your risk of being sued for malpractice.
1 Schaffer AC et al. Rates and characteristics of paid malpractice claims among US physicians by specialty, 1992-2014. JAMA Internal Medicine. 2017;177(5):710-18.
Related Articles
What's My Risk Library
Article
What's My Risk Library: CRICO-insured physicians can find charts specific to their specialty.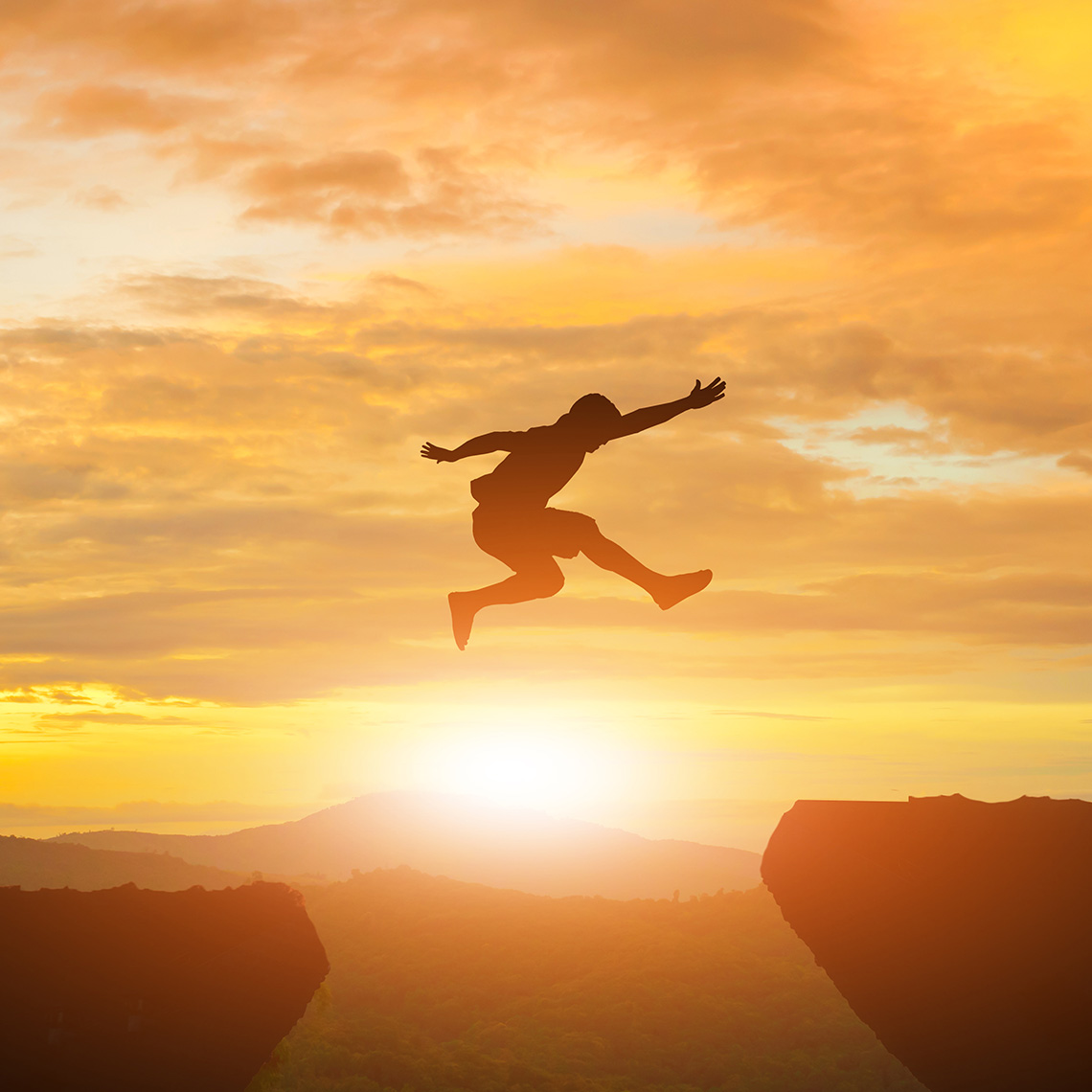 Risks in Obstetrical Care: Contributing Factors

Article

Deep analysis of more than a decade of MPL cases reveals that those involving obstetrical care clinicians are most commonly related to labor and delivery, especially the second stage of labor when clinical assessments and delivery decisions are most critical.


Risks in Radiology: Contributing Factors

Article

Deep analysis of more than a decade of medical professional liability (MPL) cases reveals that those involving radiologists are most commonly related to missed or delayed diagnoses, in particular, cancer, fractures, and post-procedure complications.

Reducing the Occurrence of Malpractice Cases Involving Inadequate Patient Assessment

Article

While standardization—even automation—may be attractive, interventions to reduce errors during these critical initial stages of diagnostic assessment need to support the heuristics and mental shortcuts clinicians rely on to be effective and efficient.