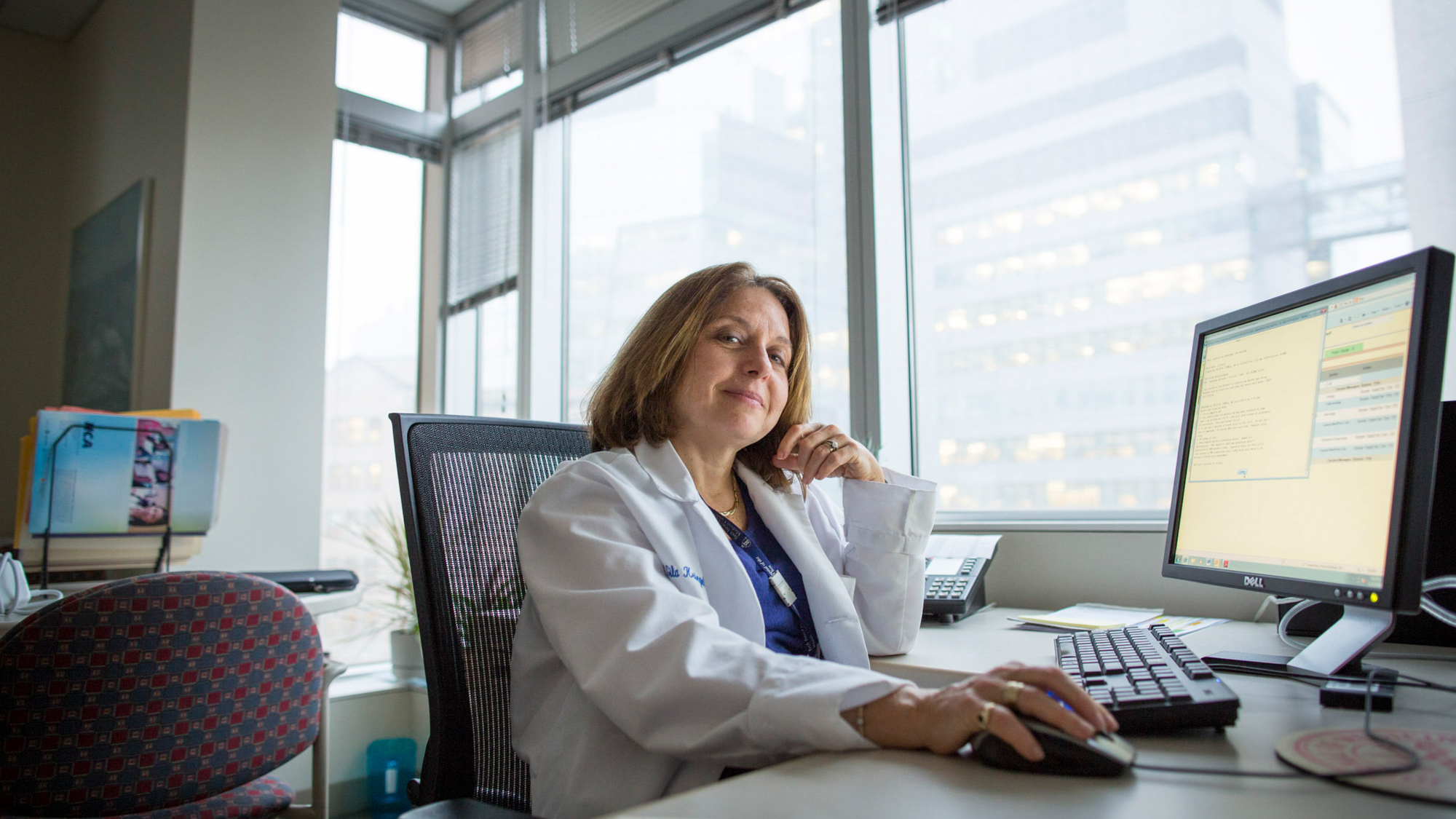 Ahead of Her Time in Outpatient Patient Safety
Is taking care of your own patients enough?
Multiple generations in the same family have received care at BIDMC from Gila Kriegel, MD, and she loves them. But her answer would have to be 'no.'
Before many of her colleagues really "got" what she was doing, Dr. Kriegel was trying to systematically make care better and safer for their patients too. Today this places her at the center of a data and dollar-driven movement to reduce preventable bad outcomes in ambulatory medicine.
Primary care in particular has historically received less attention than the inpatient setting, for risk management or patient safety. Data now show that malpractice claims are most likely to arise in the out-patient setting. After toiling in some lonely fields for more than 20 years, Dr. Kriegel is finally in the vanguard.
"It's really nice that our time has come, because we were sort of working and not getting a lot of recognition so it's very exciting that there's new enthusiasm for the kind of work that we're doing. It's wonderful."
Error Prevention Beyond the Inpatient Setting
While the medical world gradually recognized the need for error prevention beyond inpatient settings, Dr. Kriegel and some of her colleagues in ambulatory care weren't content to wait. They saw ways to shore up vulnerabilities around them, starting with a focus on documentation and screening tests.

Pap smear management, high risk referrals, coordination with specialists on follow-up of individual patients, and medication reconciliation: these have all felt the light beam of Dr. Kriegel's quality and patient safety focus.
"Patient safety risk in ambulatory care is different because cases unfold over a long period of time. The risk is not always as apparent, and even the fact that there was an adverse event isn't always that apparent. You have to really ask the question and then go looking to see whether this was something that could have been prevented or not prevented or whether something might have made a difference to prevent it."
One case involving a patient who did not get appropriate immunization or antibiotics for infections despite being asplenic, led to a Plan/Do/Study/Act intervention with Dr. Kriegel's leadership. Asplenic patients on the panel were put on a monitoring list to verify their immunization status. Some changes worked, and some didn't as they designed a new "population management" approach that raised the percentage of asplenic patients with appropriate interventions from 14 percent to almost 90 percent.
Removing Roadblocks
Project interventions have helped, but so too have changes to everyday workflow. Marching her five-foot frame into and out of exam rooms three days a week, Dr. Kriegel tries to apply to her group practice at BIDMC some of the lessons learned about effective patient safety techniques in hospitals.
She holds a "huddle" with staff at the start of the day to get a shared mental model of the day's patient issues and priorities. If a test result is misplaced or unaddressed, she clicks on a simple computerized "near-miss" report and shoots if off to the hospital's reporting system.
It's a reporting process that Dr. Kriegel helped pioneer at BIDMC for outpatient risk management. Similarly, when she looked around for a protocol on ordering and managing pap smears, there wasn't one.
So she wrote it.
"One of the big issues in ambulatory safety is closing the loop on test ordering and result management. So many steps take place. And they take place over a long period of time as compared to the inpatient setting where you order a chest x-ray, it gets done, you get the result right away. In the outpatient setting, something like a mammogram or a colonoscopy, you might order it at a visit; it may or may not get scheduled. The patient may or may not come in. The results may or may not get back to you. If they get back to you, you send the patient a letter; you try and get in touch with the patient. You may or may not reach them. There are challenges every step along the way."

Dr. Kriegel and her colleagues in quality improvement continued blazing trails, finding their own way forward in a safe work environment provided by the hospital. Now, the organizational support is beginning to grow. New federal rules and other institutional mandates on patient safety even come with money.
The Harvard system, via CRICO, has distributed millions of dollars in project grants, and provided initial funding specifically for ambulatory risk management staffing. Dr. Kriegel says having a risk manager in her setting at BIDMC has made many of her efforts possible and more effective.
She believes every ambulatory practice will be getting into the patient safety act eventually.
"As the systems become more complicated, you need to be able to step back and look at when things go wrong, how can you change those systems to make sure that your patients are getting the best quality of care and that there aren't things in the system that are conspiring against that?"
Managing the Stress
Participating in these improvement efforts is one way that Dr. Kriegel copes with increasing complexity and change. She says she is "compulsive" about documenting the shared decision-making that she carefully pursues with patients, including the uncertainty inherent in primary care.
"We live with a lot of uncertainty in general medicine, a lot of uncertainty. You cannot admit every patient who has some kind of chest pain. You can't scan every patient who has abdominal pain. You have to be able to live with that and it's not always easy. It's never easy."
Other coping strategies for Dr. Kriegel are yoga, and routine get-togethers with friends who are also colleagues able to share an understanding of her life.
Dr. Kriegel grew up in a "family of doctors." She began a six-year medical degree program directly out of high school, at Union College/Albany Medical School, and met her husband there the very first day. Their marriage changed her plans to relocate to Israel and have a wider impact with her work there. Her late pediatrician father in particular had inspired her to pursue medicine. As a Holocaust survivor, he had a pragmatic attitude toward doctoring as a profession they could take with them wherever they went. Two sisters are physicians, and Dr. Kriegel's oldest son is in med school.
"My father's office was actually in our home so we grew up with patients ringing the doorbell. We saw the impact that being a physician had on his patients, on everyone in the family. He was the doctor for the whole family, and I just saw what it meant to help people, make a difference in people's lives. I was very young when I made that commitment and it worked out."
After more than 25 years as an internist, Gila Kriegel still chokes up a little when she thinks about her medical career—and about her colleagues and mentors who helped her blaze a trail for other women in medicine.
When she began her primary care practice at Beth Israel Deaconess Medical Center, Dr. Kriegel's department leaders supported her plan to have a work-life balance, "even though there was really no precedent at that time for woman to work part time." When a second female doctor came on board a few years later and started having children, she helped cover for her. Now, though her three children are in college and beyond, she still values work-life balance and sticks to three days a week in the office and seeing patients two mornings a week.
Yet the bond with her patients runs deep. Having practiced for such a long time, she says, means her patients are like friends. When she enters the exam room, they know her and she knows them. A drawer full of thank you notes from patients and their families is also crammed with plenty of chocolate gifts that Dr. Kriegel is quick to share with visitors. "People are very appreciative and it makes you want to keep on sort of fighting the good fight."
One thing Dr. Kriegel believes is unlikely to change is her place in the pecking order. Because she works part-time, she hasn't been on an academic promotion ladder, or maximized how much money she could make otherwise. That's never been her motivation.
"I love the improvement work because I feel that the work that I'm doing extends to other patients in our practice, yes, but also to other patients in the whole hospital, the hospital system, and through the work with CRICO to other Harvard hospitals. So that's very motivating, because you can just multiply your efforts and see them making a difference."
This page is an excerpt of a full issue of Insight.
CME:
The Massachusetts Board of Registration in Medicine has endorsed each complete issue of Insights or 30-minutes of podcast episodes as suitable for 0.5 hours of Risk Management Category 1 Study in Massachusetts. You should keep track of these credits the same way you track your Category 2 credits.
Related Articles
Resources for Presenters
Article
The CRICO Are You Safe? case studies contain information that you can access in different formats: web pages, one page handouts, and a slideshow version with additional data included.

Are You Safe?

Article

These case studies are designed to help all members of a multidisciplinary team reduce the risk of patient harm in the course and diagnosis and treatment. Office-based events that trigger malpractice cases present valuable opportunities to identify vulnerabilities in communication, clinical judgment, and patient care systems.

Informed Consent Basics

Article

Through dialog and discussion with you, your patients become more knowledgeable partners in medical decision-making and develop realistic expectations about the outcomes of medical intervention. Ideally, informed consent discussions build trust and reduce surprise and disappointment if complications or adverse events occur.