Call to Action: Fix EHRs to Better Support Clinicians and Patients
Sep 23, 2019
CRICO is releasing a new film, The Future of Electronic Health Records: Supporting Clinicians and Patients. Produced as a call-to-action, this film highlights the connection between electronic health record (EHR) systems and an alarming increase in provider burnout, among other topics. Broad viewing and dissemination are encouraged, with the goal of catalyzing tangible design and usability improvement.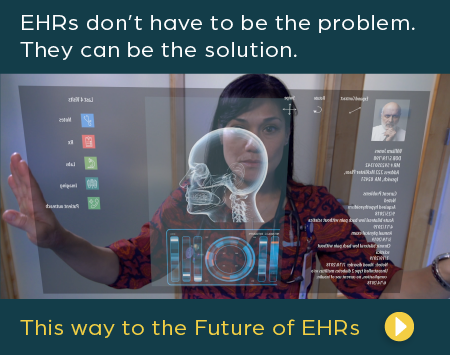 Viewers might find themselves considering their own EHR experience. Instead of fighting with their EHRs, can clinicians and patients work with them? Do we need a tweak or a re-design? Shall we explore brand new technology, or a different implementation strategy?
The film opens with a dramatized depiction of a day in the life of a primary care physician, trying— unsuccessfully—to balance the overwhelming challenges of home and work responsibilities. Primarily designed to support transactional efforts rather than clinician workflow, EHRs can add complexity and time-consuming tasks to clinical work days. This creates burdens for clinicians and possible risks to patient care. From there, viewers see a vision what might be possible. Renowned experts in human factors, clinician burnout, and health IT, share their ideas on how to turn things around for the better.
In his role as Chief Medical Officer and Senior Vice President for CRICO, the medical professional liability insurer for the Harvard medical community, Luke Sato, MD, is aware of the impact that deficient EHR systems can have on clinicians.
"In the past few years, we've seen physician burnout manifest in new ways," Dr. Sato says. "We've identified the EHR as a contributing factor to medical error. When systems hinder the natural workflow of a patient encounter, they can negatively affect physician behavior and cognitive judgment."
Seeing this influence, CRICO reached out to several health care leaders who are equally committed to finding more effective EHR solutions. Providing their expertise and insights, the following individuals are featured in this film:
Raj Ratwani, PhD,

Director of the MedStar Health National Center for Human Factors in Healthcare

Christine Sinsky, MD, Vice President of Professional Satisfaction at the American Medical Association

David Ting, MD, Chief Medical Information Officer for Massachusetts General Hospital Physician Organization
Their common goal is to encourage patients and providers to raise their voices when the inadequacies and limitations of current EHR systems put the delivery of safe care at risk, and to help recognize and advance the positive possibilities this technology offers. The video's creators hope to help ignite a movement among health care and industry leaders to take action to improve EHR design, usability, and implementation.
"The consequence of an electronic record that does not take human factors into account, that fails to account for the true clinical workflow, or that fails to present data in a way that's easily consumable by human eyes, is that it leads to clinicians missing important information," says Ting.
Sinsky notes, "About half of U.S. physicians show some sign of burnout and we know that the EHR is a major driver of that. I spent much of the first 10 or 15 years of my career wishing for something like the EHR but then when it came, it came with both plusses and minuses."
But the potential doesn't have to be lost, according to Ratwani. "In places that are at the leading edge of electronic health record technology, what we are seeing is a more seamless experience and more seamless usability for the provider and for the patient," he said. "If we make it easier for clinicians to do their job overall and reduce the cognitive burden of making decisions—that would actually lead to greater satisfaction and could potentially solve a lot of the challenges we see with burnout today."
You can view The Future of Electronic Health Records: Supporting Clinicians and Patients on the CRICO website.
Help us get the conversation started and share the film via social media using hashtags: #EHR, #PhysicianBurnout, and #SeamlessUsability.
Related Video
Better, Safer Care: Imagining a Medical Record of the Future
Press Releases from CRICO
See CRICO press releases
Telehealth Video Series Recognized as an Exceptional Source of Educational Marketing
Press Releases
"What NOT to Do: Telehealth Lessons Learned" wins Gold Award. The Insurance Marketing and Communications Association recognized Candello for its exceptional efforts to educate and support health care professionals as they navigate the myriad challenges of telehealth care delivery.