Triggers for Resident-to-Attending Communication
The attending notification guidelines shown here are the result of several years of work by the Chiefs of Surgery at Beth Israel Deaconess Medical Center, Brigham and Women's Hospital, Children's Hospital Boston, and Massachusetts General Hospital, who were brought together by CRICO to work on improving safety for surgery patients. Efforts have extended implementation of similar guidelines to additional CRICO-insured institutions.
Guided by CRICO data showing communication failures in 70 percent of surgery-related malpractice cases, the chiefs investigated the nature of those communication breakdowns. Primarily, attendings were not always aware of changes in the status of their patients, changes that necessitated their expert guidance. Residents who found themselves in a situation which warranted the attending's involvement, delayed or decided against making that phone call.
These communications guidelines identify specific criteria that should trigger residents to call the attending and should not be construed as a standard of care. The "triggers" card sends a clear message to the house staff: the attendings want to know what is going on with their patients—they want the phone call, day or night. And, as the card has been introduced and distributed to surgical staff, the most important message is not found in the words it contains. The primary message is simply, if you have to check the card, call the attending.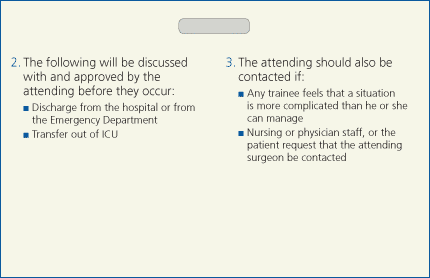 Related Articles
Tighter Consent Rules from CMS

Article

The goal of the new guidelines is to ensure that patients can exercise their right to make informed decisions regarding their care, including being informed of their health status, being involved in care planning and treatment, and being able to request or refuse treatment.