Opportunities to Reduce Patient Safety Risks Related to Medication Error Identified in New Report
May 22, 2017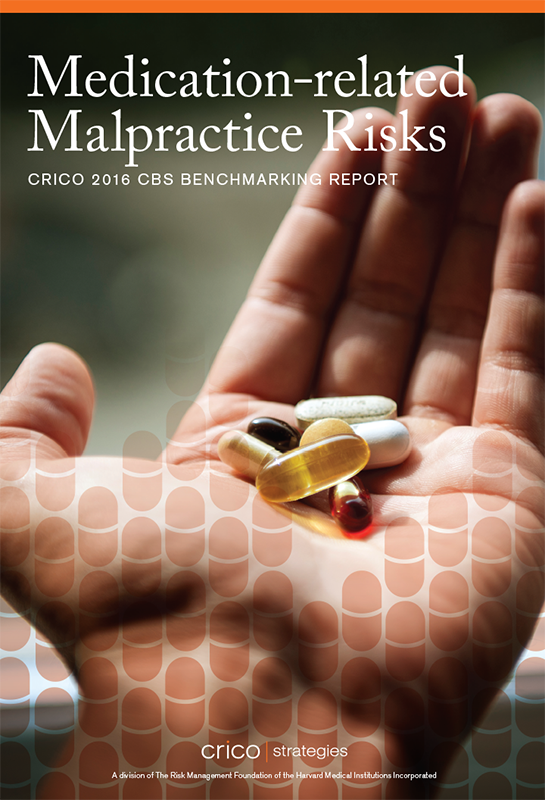 Boston, MA– Medication-related errors are common, can cause high-severity injuries, and may be costly. Many organizations have made reducing these errors top priority, including the World Health Organization (WHO), which recently launched a global effort to halve medication-related errors in five years. A new report issued by CRICO Strategies, Medication-related Malpractice Risks, examines the impact—financial and human—and root causes of medication-related errors.
Key findings:
Primary care providers and hospital-based nurses are particularly at risk
32 percent of medication-related malpractice cases involve a patient death, compared with 18 percent of all other cases
Top medications involved in claims were analgesics (18 percent), anticoagulants (17 percent) and antibiotics (13 percent)
For the complete analysis, download the CBS Report, Medication-related Malpractice Risks, available online as a PDF.
Every medical malpractice case presents unique circumstances, but a collection of similar cases can reveal a common story of what goes wrong. This Report analyzed medical malpractice claims from CRICO Strategies Comparative Benchmarking System (CBS)—a database of deeply coded medical malpractice claims representing more than $25 billion in reserves and losses. CBS reflects the medical professional liability experience of more than 400 hospitals and health care entities and 165,000 physicians from commercial and captive insurers nationwide.
Mark E. Reynolds, president and CEO of CRICO said, "The national Comparative Benchmarking System enables us to examine thousands of cases, providing credible findings that can be considered for all caregivers who prescribe, administer, or manage medications. Our analyses are powered by information captured directly from the patient's medical record as well as legal documents, extracting a broad range of systemic and human factors underlying each case."
Each step in the medication process—ordering, dispensing, administering, and managing—presents unique risks to providers and their patients, and the 11 percent of cases in which the patient experienced failures in multiple steps demonstrate how intertwined the process can become. Says Heather Riah, chief operating officer of CRICO, "In between getting everything right and having something go terribly wrong, patients and providers are encountering a vast array of medication-related errors. Most will not trigger a lawsuit, but all have short or long-term consequences for patients and providers."
National leaders in patient safety who contributed to the Report include, Frank Federico, RPH, Vice President, Institute for Healthcare Improvement, Michael Cohen, RPh, President, Institute for Safe Medication Practices, David Bates, MD, Senior Vice President & Chief Innovation Officer, Brigham & Women's Hospital, and Argin Srinivasan, MD, FSHEA, Associate Director for Healthcare Associated Infection Prevention Programs, Centers for Disease Control and Prevention.
About CRICO Strategies:
CRICO Strategies is a division of The Risk Management Foundation of the Harvard Medical Institutions Incorporated, a CRICO company. The CRICO insurance program is a group of companies owned by and serving the Harvard medical community, with an established reputation as a leader in evidence-based risk and claims management. Established in 1998, Strategies extends CRICO's patient safety mission through broad dissemination of products and services designed to reduce medical errors and malpractice exposure. CRICO Strategies CBS database currently represents approximately 30 percent of all US medical malpractice claims. Participating organizations contribute their claims to the ever-growing pool of data and are awarded with analysis that offers insight to specific risk vulnerabilities. Armed with this data, health care providers and leaders have a clear line of sight on how to change specific clinical systems or clinician behaviors and reduce those dominant risks.For more information, visit www.rmf.harvard.edu/Strategies.
Media Contact:
Katharine Schuler
CRICO Strategies
617.450.6803
Latest News from CRICO
Get all your medmal and patient safety news here.