Managing Risk in the Referral Lifecycle
Dec 20, 2012
More than two-thirds of patients are referred to a specialist at least annually, with those appointments accounting for half of all ambulatory visits.1–2 Underneath that staggering volume of send-receive transactions—making appointments, completing visits, transmitting results—is significant opportunity to lose track of critical information. Such missteps increase the risk of harm for vulnerable patients and expose the clinicians responsible for their care to allegations of malpractice.
Analysis of malpractice data from Candello's comparative benchmarking system indicates that, for outpatients, diagnosis-related errors reflect the second most common major allegation.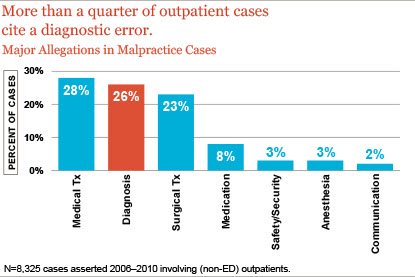 Exploring further and examining the diagnostic process of care continuum for such cases reveals that gaps in the management of referrals present an important focal point for potential outpatient safety improvement.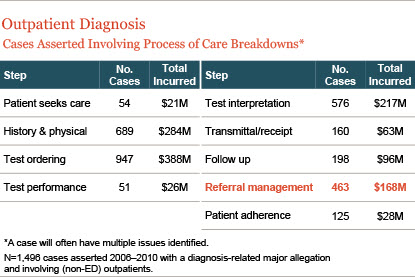 CRICO Best Practices for Referral Management
Like any multi-step processes, the management of referrals is prone to breakdowns—too frequently with a consequential impact on the patient's diagnosis and treatment. As CRICO has examined malpractice data, along with several years worth of results from office practice evaluations, best practices for each step in the referral management lifecycle have become evident.
A referral is ordered by the provider.
The practice/patient schedules the referral appointment.
The referring provider's office reconciles the referral against the consult report to identify missed appointments.
Missed appointments are reviewed with the ordering provider for appropriate follow up.
The office contacts the patient to reschedule if necessary.
A note is placed in the medical record about missed/canceled/not rescheduled appointments.
The consult note is transmitted to the responsible provider (electronic/paper).
The consult note is reviewed by the responsible provider and acknowledged.
The consult note is filed in the medical record and includes the provider's acknowledgement.
The patient is notified of the consult report and any new treatment recommendations (and knows who is responsible for coordination of care).
Auditing and reporting system compliance and success with the 10 step process.
When all parties involved in referral transactions assign ownership to, and consistently meet, the full intent of these "business rules" they reduce the opportunities for patients (or reports) to fall through the cracks. Technology and human factors engineering are key tools for helping providers ensure successful completion of all steps, but only if all clinicians making or receiving referrals have a full understanding of what is needed and expected at each step of the referral management process. That knowledge and appreciation is essential for the adoption, use, and continuous improvement of any (low- or high-tech) solutions put in place to help physicians with the extraordinary volume of referrals and the considerable risk of missteps, patient harm, and allegations of malpractice.
References
Starfield B, et al. Ambulatory specialist use by nonhospitalized patients in US health plans: correlates and consequences. Journal of Ambulatory Care Management. 2009;32(3):216–25.
Machlin S, and Carper K. Statistical Brief 166: Expenses for Office-Based Physician Visits by Specialty, 2004.
Additional Materials
This page is an excerpt of a full issue of Insight.
CME:
The Massachusetts Board of Registration in Medicine has endorsed each complete issue of Insights or 30-minutes of podcast episodes as suitable for 0.5 hours of Risk Management Category 1 Study in Massachusetts. You should keep track of these credits the same way you track your Category 2 credits.
Latest Newsletters from CRICO
Recent issues
Opening the Door to Safe Virtual Visits
Newsletter
While COVID-19 closed many doors across health care, it did push the door to virtual visits wide open.