Diagnosing the Malpractice Risks for Radiologists
Jan 04, 2021
While primary care providers and other medical specialists carry out the bulk of a patient's diagnostic process, malpractice allegations of a missed or delayed diagnosis are often filed against the radiologist. Analysis of medical professional liability (MPL) cases in CRICO's national comparative benchmark system (CBS) indicates that 13% of diagnosis-related cases involve radiologists. Those that close with an indemnity payment average $290,000. Even more compelling is the fact that 62% of cases naming radiologists allege a diagnostic error.
Radiologists are most vulnerable to allegations of having, in hindsight, misinterpreted a screening or diagnostic image, but are also at risk for failing to adequately relay their findings to the ordering provider (and, in some cases, patients). Thus, the opportunities to mitigate the risk of malpractice allegation range from highly technical interpretation skills to the foundations of documentation and communication.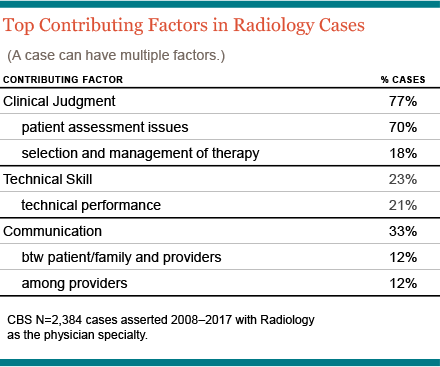 A unique and highly-detailed component of the CBS data is capture of the clinical and practice environment issues, i.e., contributing factors that triggered allegations of malpractice. The top three contributing factors in cases naming radiologists are:
Inadequate Patient Assessment
These are primarily allegations of misinterpretation—based on subsequent imaging and reads by clinical experts who are retrospectively able to identify anomalies related to the patient's eventual diagnosis. Radiology cases may also point to a failure to appreciate the relevance of the patient's results, or to order follow-up imagings.
Miscommunication
Almost always about test results or the subsequent care plan. The consequences of missing or misunderstood test results can alter a provider's diagnostic process and, potentially, set patients onto a dangerous trajectory.
Technical Performance
Involves operation of equipment, positioning of the patient, processing results, or other factors that resulted in a suboptimal procedure.
Opportunities for Radiologists to Mitigate the Risk of an Adverse Event
Radiologists who may feel victimized by 20/20 hindsight, do have an opportunity to introduce foresight into their risk management processes. In particular:
Adopt and implement communication best practices to demonstrate to peers, intradepartmental staff, and non-radiology colleagues that you respect the need for clear results management and coordination of care.
Clinical audits and other quality improvement efforts that pay particular attention to vulnerabilities exposed via MPL cases.
An organizational assessment of test results management and communication to identify potential pitfalls, especially for high-impact results.
None of these can guarantee an end to allegations of malpractice, but they can mitigate those risks and provide better support for the defense against such claims.
Additional Materials
Latest News from CRICO
Get all your medmal and patient safety news here.