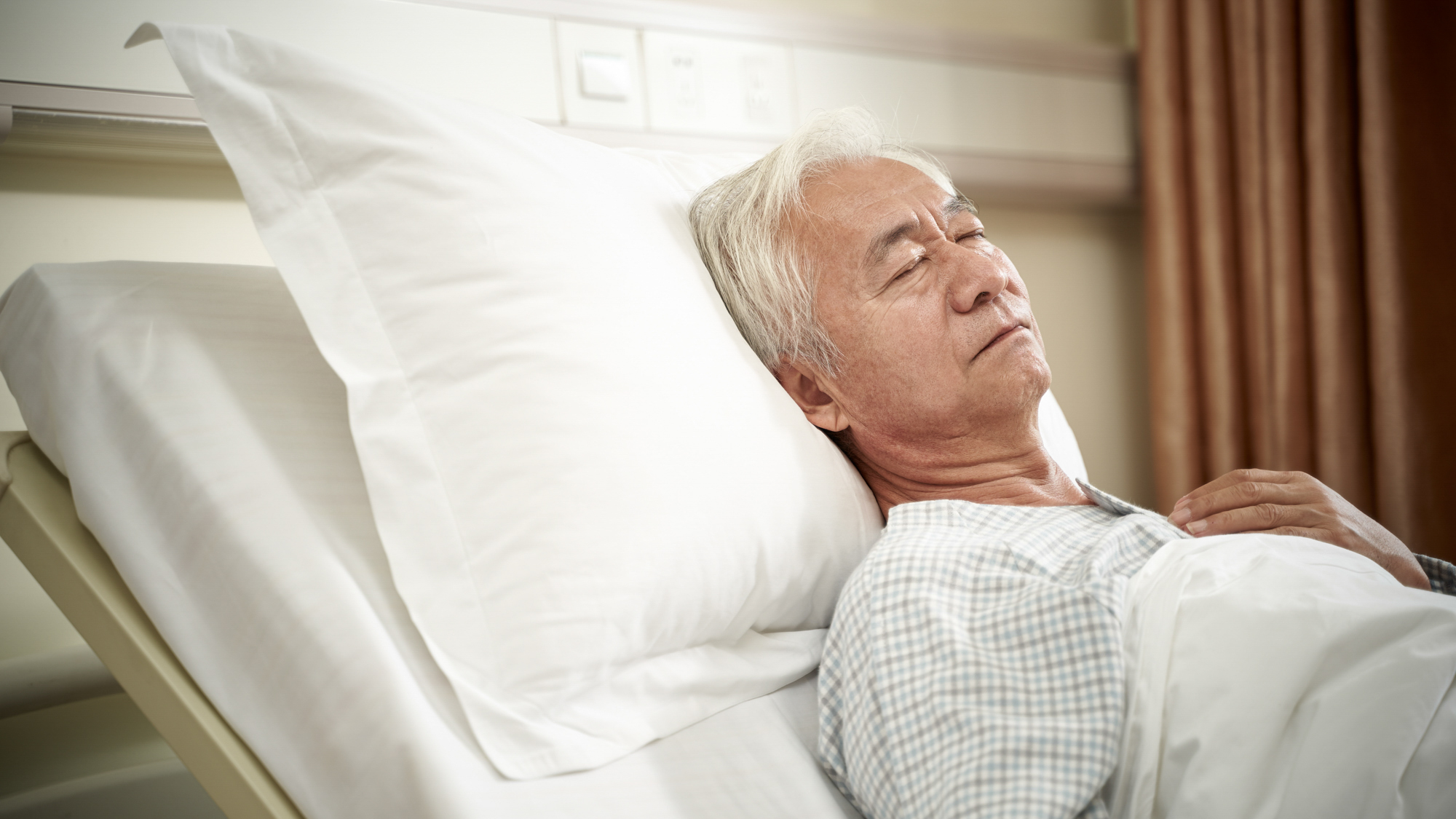 Description
A 70-year-old male whose hospital-bed alarm was inactive experienced a fall with serious injury.
Key Lessons
Fall prevention and awareness in hospitalized patients requires a multi-measure effort.
Overreliance on alarms can backfire.
The associated risks and costs of patient falls with injury should be included in staff training.
Clinical Sequence
A 70-year-old male with a history of coronary artery disease, hypertension, atrial fibrillation, chronic obstructive pulmonary disease, and Parkinson's disease was admitted to the medical unit with progressive shortness of breath and a report of recent falls at home.
On initial assessment, the patient was hypotensive and delirious. He was considered at high risk for falls and a bed alarm intervention was implemented. Zyprexa was administered (for delirium) with no effect.
Overnight, the patient's nurse checked on him in response to his bed alarm at least 10 times. During the early morning shift change, the patient was found on the floor; his bed alarm was not activated (who turned the alarm off could not be determined).
A cervical collar was placed, and an X-ray revealed multiple rib fractures and a sprained wrist. After the fall, a 1:1 patient observer was implemented. Ten days later, the patient was discharged to rehab.
Allegation
A claim was asserted alleging that the fall was preventable as the bed alarm was not activated at the time of the incident.
Disposition
The defense team review determined the patient's fall was preventable and the claim was settled in the low range (<$100,000).
Discussion Points
Failure to ensure patient safety
In this case, the fall was determined to be preventable. This patient was a documented fall risk.
While a bed alarm is an appropriate intervention, complementary measures to consider are:
Thorough patient and environmental assessment
Frequent rounding to assist with patients' needs
Medication review
Proximity to nurses' station
Assistive devices (bedside commode, walker, etc.)
Proper use of technology to reduce fall risk
Visual/verbal cues
1:1 patient observer
Effective patient/family education
Bed alarms don't prevent falls
Although bed alarms are commonly used to alleviate the risk for falls, they are most effective when used as part of a fall-prevention program, with a clear understanding of alarm limitations.
Alarm fatigue
Alarm fatigue is sensory overload that can result in desensitization to alarms and missed alarms. Bed alarms can be activated with simple movements like a position change or reaching for items, causing false alarms that do not necessarily represent an attempt to get out of bed. False alarms can contribute to alarm fatigue and patient frustration.
Fall-prevention awareness
Preventing falls and fall-related injury requires leadership commitment and a systematic, data driven approach to staff training and supervision.
Strategies to raise awareness in order to achieve risk reduction and continuous improvement include:

Analyze/review similar events (including near misses)
Form a falls task force to review data, implement action items, and evaluate effectiveness
Empower staff
Ensure accountability
Sustain improvement
Identify an executive sponsor and clinical champion
Disseminate learnings with staff at all levels
Extended hospitalization and costs
This patient's fall extended his hospital stay by more than one week. One in three U.S. adults age 65 or older falls each year with up to 10 percent of inpatients falling during their hospital stay1.
Of the hospital inpatient falls, about 30 percent result in injuries that lead to potential financial impacts, including a longer length of stay (average=6.3 days1) and operational costs (average=$14,0001,2). Conveying the significant financial impact falls generate is an important component of staff education and training.
Resources:
References
ERCI Institute. Preventing Fall-Related Injuries (Aug 2018). Accessed May 11, 2020 from https://www.ecri.org/components/HRC/Pages/SafSec2.aspx


The Joint Commission. Preventing falls and fall-related injuries in health care facilities (Sept 2015). Sentinel Event Alert Issue 55. Accessed May 11, 2020 from https://www.jointcommission.org/resources/patient-safety-topics/sentinel-event/sentinel-event-alert-newsletters/sentinel-event-alert-55-preventing-falls-and-fall-related-injuries-in-health-care-facilities/.
Our Case Studies
CRICO's case studies educate you on what can go wrong in clinical settings and how you can prevent similar issues.
Test Result Snafu Delays Cervical Cancer Diagnosis
Case Study
A patient never received her abnormal test results or her associated need for follow up, leading to a delayed cervical cancer diagnosis.