Riah Announced as CRICO Senior Vice-President & Chief Operating Officer
Jul 19, 2016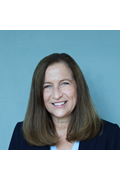 BOSTON, MA, July xx, 2016 – Heather Riah, MBA, has been promoted to Senior Vice President and Chief Operating Officer of CRICO. Her new role will become effective July 25, 2016. She succeeds retiring SVP, COO Mark Horgan, Esq. As SVP, COO, Ms. Riah will report directly to Mark E. Reynolds, President of CRICO, and serve as a member of the Senior Management Team.
She will be responsible for ensuring the efficient and effective execution of key initiatives including oversight of the strategic planning process, coordination of cross-departmental activities, and continue her involvement in a large IT project she has spearheaded for the past year. She will continue to have oversight of the CRICO Strategies department and will also oversee the Legal, Facilities, Human Resources, and Communications departments.
"A nationwide search was conducted to find Mark Horgan's replacement and I am very pleased that after this exhaustive vetting process, Heather accepted our offer of the position," says Mark Reynolds. "I've had the pleasure to work with Heather over the past three-plus years and trust and value her business acumen. I look forward to her continued support and leadership in her new role," continued Reynolds.
Ms. Riah has more than twenty years' experience in the insurance industry and for the past ten years, she has served as the Assistant Vice President of CRICO Strategies, a division of the Risk Management Foundation of the Harvard Medical Institutions Incorporated, a CRICO company. In her tenure as AVP of CRICO Strategies, she has overseen operations for the department including product development, sales, and strategic alliances. Under her leadership, the division achieved profitability within the first year through restructuring the delivery model, improved alignment of products with customer needs, and increased the CBS database to now represent 30 percent of US medical malpractice claims.
Heather earned her Bachelor of Arts in Economics from Mount Holyoke and her Masters of Business Administration, with a focus in IT, from Rutgers University.
About CRICO:
For 40 years, CRICO has served the clinicians, institutions, and employees of the Harvard medical community with a superior medical professional liability program, and an extensive array of patient safety resources. The strength of our program comes from the delivery of strong insurance protection and claims management through vigorous yet fair malpractice defense strategies. CRICO works closely with organizational leaders and physicians to provide insured-clinicians the support they need in the aftermath of an adverse event. To learn more about CRICO, visit www.rmf.harvard.edu.
Latest News from CRICO
Get all your medmal and patient safety news here.