Malpractice Risks of Health Care Communication Failures
Feb 02, 2016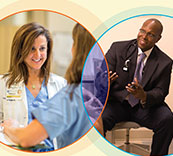 A third of medical malpractice cases can be directly linked to communication breakdowns.
Whether face-to-face, by phone, or via the medical record, information exchange guides diagnosis, treatment, and outcomes. Patients and providers rely on information being timely, accurate, and accessible. When communication is unreliable, then providers and patients are left vulnerable to medical errors.
In the 2015 CBS Benchmarking Report: Malpractice Risks in Communication Failures, more than half (57%) of the 7,149 cases analyzed reflect miscommunication between two or more health care providers. Slightly fewer (55%) reflect miscommunication between providers and patients. A noteworthy 12% involve breakdowns in both categories.
Communication Failures within Selected Services
38%

of all
general medicine
cases involve a communication failure

N=2,488 cases

34%

of all
obstetrics
cases involve a communication failure

N=1,102 cases

32%

of all
nursing
cases involve a communication failure

N=2,019 cases

26%

of all
surgery
cases involve a communication failure

N=7,536 cases
Our analysis reveals that communication failures vary by service, setting, and the individuals involved. But across all specialties and care delivery settings, miscommunication begets misinformation. If the systems that providers rely on to alert them to information gaps or discrepancies are inadequate, then misinformation can lead to mismanaged care, unmet expectations, and patient harm.
Miscommunication-related cases illustrate the multiple underlying causes. Workload pressure, cumbersome EHRs, lack of role clarity, distractions, workplace culture (and hierarchies) all contribute to communication failures: a nurse or physician says or documents only what is critical before moving on to the next task, a colleague reads or listens with less than full attention amidst the chaos of a busy office or an inpatient unit, a physician sees a patient for a scheduled visit without the expected test results necessary to conduct a thorough evaluation.
CBS Cases Closed 2009–2013 (N=25,607)
all cases

31%

$361K

>>

cases alleging provider-provider miscommunication

49%

$484K

cases alleging provider-patient miscommunication

35%

$381K
Malpractice cases with a communication breakdown closed with a payment more frequently than other cases, and those payments are above the overall average. For providers across all walks of health care, time spent developing the techniques and habits that improve communication during encounters with patients and exchanges with colleagues will be considerably less stressful than time spent defending care complicated by communication failures.
A pdf of the 2015 CBS Benchmarking Report (and those from prior years) is available (free of charge) here.
Additional Material
Latest News from CRICO
Get all your medmal and patient safety news here.