Build a Better EMR
Feb 27, 2013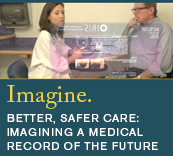 For all the good they promise for health care, electronic medical records (EMRs) have yet to demonstrate a profound impact on patient safety. Health care providers who resist or merely tolerate paperless systems are unlikely to capitalize on secondary components that could alert them to hidden risks. But even for clinicians who embrace their EMR, the benefit of reducing errors, and by extension patient harm, remains elusive. Nevertheless, patient safety experts see enormous potential in both the point-of-care opportunities for avoiding errors and the broader value of data aggregated from appropriately designed systems.
Today, the EMR that some envision may be mere fantasy, but physicians, patient safety experts, and patients need to put forward ideas that will enable designers to meet that potential. Ideally, an EMR should help the clinician in the office or at the bedside focus on the immediate concern while keeping him or her fully apprised of the patient's history. And rather than dictate the diagnostic process or care plan, an EMR should support the clinician's decision-making:
linking to evidence-based guidelines and protocols
identifying potential risks
ensuring that critical patient information is communicated, received, and acted upon
Behind the scenes, an EMR designed to reduce the risk of patient harm should enable health care leaders and researchers to mine the database for trends that signal the need for education, training, or systems adjustments.
Certainly that is a tall order. Commercial vendors need to see a return on investment; providers want ease of use; and, more and more, patients expect to be engaged with both their physician and their medical information. CRICO and its constituents have stepped up the challenge through a provocative video and a series of demonstration projects currently underway that should influence this evolving technology. But we expect that the best ideas will come from everyday EMR users who want a better EMR in their future.
Additional Material
Making EMRs Safer for Patients and Providers
Better EMR: Can CRICO Help?
Latest News from CRICO
Get all your medmal and patient safety news here.
The Patient Safety Adoption Framework: A Practical Framework to Bridge the Know-Do Gap

News

CRICO Grants

Many patient safety initiatives fail to be adopted and implemented, even when proven effective. This creates the well-recognized know-do gap—which occurs when health care workers know what should be done based on evidence vs. what takes place in practice. To address this issue, CRICO funded the development of a patient safety adoption framework and had it evaluated by leaders in quality and safety. The framework and its findings were published online in the Journal of Patient Safety in April 2023.

Ambulatory Safety Nets: Protecting Providers and Promoting Safety with Systems to Reduce Delayed Cancer Diagnoses

News

CRICO Grants

Ambulatory safety nets (ASNs) are person-centered programs that provide a highly reliable backup system for following up on abnormal test results when the standard follow-up process fails. Co-authored by CRICO's Pat Folcarelli RN, MA, PhD, and Luke Sato, MD, this article about ASNs was featured in Inside Medical liability Online.