Christopher Lathan, MD
Feb 21, 2012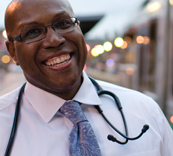 A Passion for Fixing Disparities in Cancer Care Based on Race or Class has Turned Into a Groundbreaking Career.
Dr. Christopher Lathan's father drove a forklift to support his working-class family in a poor neighborhood in Springfield, Massachusetts. That his son became a physician who brings leading edge cancer treatment to the under-served closes a logical loop. Lathan recalls, "My father died in his 50s from congestive heart failure. He had a lot of hurdles to go through and like a lot of poor and working-class people, his health was at the bottom rung of what he had to deal with every day."
Driven in part by his father's experience and by his own training, Lathan is interested in racial and class disparities in cancer care. He says that an increased awareness of the effectiveness of therapy for various cancers has exacerbated a treatment gap in cancer care by race. "It is incumbent upon providers to attempt to narrow the treatment gap", he says.
A passion for fixing disparities in treatment has also turned into a groundbreaking career that had both Harvard and Yale fighting for Lathan's talents.
Harvard kept him by creating a new center to study and dismantle barriers to top care in bottom-of-the-ladder communities. The Cancer Care Equity program at DFCI will send oncologists to community health centers serving disadvantaged populations to give educational talks, and see patients in their familiar care settings.
"I've always been very interested in taking care of vulnerable patients. What I found is that I could interact with all different types of patients regardless of race or class."
Lathan trained at a large city hospital taking care of vulnerable patients. It was here that he realized that he intuitively understood some things about his patients because he came from a similar background. "I could understand what they were going through and that helped me as a clinician," he observes. "It helped me to take better care of them." And this knowledge and understanding is something that he continually tries to share with his colleagues.
His intense drive to level the playing field gives Lathan strength. He needs plenty of that to get through long days of many end-of-life discussions with patients and families, or delivering the typical bad news of a lung cancer follow-up visit. He spends as much time with each patient as they need, and is often late as a result. But he says most of his patients wouldn't want it any other way. He may not be able to cure every cancer, but he can use his own talent, experience, and insights to help his patients and their families cope, hope, and feel content with their battle.
"I couldn't do a busy primary care practice seeing a different patient every 15 minutes. I can't practice that way."
Your goals are our goals, too.
Physicians like Christopher Lathan, MD, are trying to make a difference in their medical communities, and at CRICO, we want to help make it easier.
ACCESS: Wherever you go to serve your patients, CRICO coverage goes with you: beyond the Harvard medical institutions, as a volunteer, even abroad.
COMMUNICATION: Health literacy is a challenge for many well-educated, English-speaking patients. For less-educated patients, or those with limited English proficiency, difficulty communicating with caregivers and understanding instructions can be its own health risk. CRICO works with its insured institutions and clinicians to promote the use of appropriate information design and timely access to professional or community-based interpreter services.
COORDINATION OF CARE:

Patients with complex lives and complex health issues require a coordinated effort to ensure they don't fall through the cracks along the care pathway. CRICO works with clinical experts in a variety of specialties and settings to develop optimal test result and referral management systems that close communication loops and keep everyone, especially the patient, fully informed.

COMPASSION:

Physicians in every specialty encounter aspects in their day-to-day practice that can chip away at their motivation and morale. As a major sponsor of the Schwartz Center Rounds conducted at all Harvard-affiliated institutions (and around the country), CRICO is committed to keeping compassion for patients at the center of your practice.
Latest News from CRICO
Get all your medmal and patient safety news here.
The Patient Safety Adoption Framework: A Practical Framework to Bridge the Know-Do Gap
News
Many patient safety initiatives fail to be adopted and implemented, even when proven effective. This creates the well-recognized know-do gap—which occurs when health care workers know what should be done based on evidence vs. what takes place in practice. To address this issue, CRICO funded the development of a patient safety adoption framework and had it evaluated by leaders in quality and safety. The framework and its findings were published online in the Journal of Patient Safety in April 2023.