As social media use continues to increase among the general population, so too does its use increase among physicians and other health care professionals. But for some physicians, hearing that social media is here to stay can be a bitter pill to swallow. This reluctance to embrace social media is evident in a recent poll I conducted at a speaking engagement about social media and physician online reputation management (see image). The physician audience was split between thinking that social media is "useful to stay current and relevant," and "interesting but not very useful." Despite the fact that patients, physician peers, and hospitals use it, many are still reluctant to join. This is understandable given the daily pressures physicians are under, namely time and productivity, as well as concerns about risk exposure and patient privacy.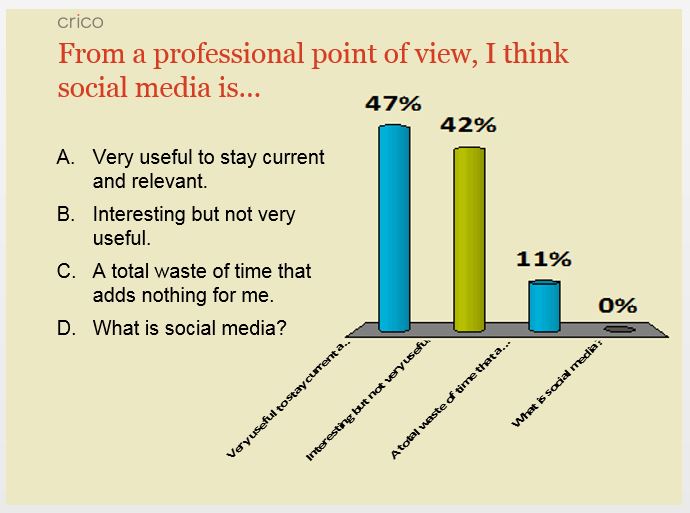 Ignoring social media won't make it go away.
Conversations about health care are taking place online whether or not you are there. Patients look up health information and share opinions about doctors and hospitals. Physicians use it for professional networking and reputation management as well as to stay current on health related news and information. Most concerning for many doctors, is managing their online reputations, or digital footprint as Bryan Vartabedian, MD refers to it. But if you sit on the sidelines, you give up control of your online reputation. Yes, it takes time but it doesn't have to become a second job. Here are three things you can do today to take control of your online reputation:
Google yourself and set up Google alerts for your name: This allows you to see your current online reputation. Do only consumer reviews show (possibly with incorrect information), or is there content that you want people to find when they search your name? Setting up a Google alert will help you monitor your reputation.
Claim your public profile on physician rating sites: Physician rating sites, like Doximity and Healthgrades, rank high on public search engines. But often the information is incorrect. Claiming your profile ensures the information about you is correct, as the information is prepopulated with government and commercially available data, such as National Provider Index data.
Get social, set up a LinkedIn account: The quickest way to enter the fray of social media is to establish a LinkedIn profile. LinkedIn is a professional networking site for all industries that ranks high on public search engines.
For more resources about using social media safely and effectively, The Doctors Company has partnered with Kevin Pho, MD of www.KevinMD.com, to provide short, informational videos.
Related Blog Posts
CBS Data in Peer-Review Publications 2020
Blog Post
Part of our mission is to share insights learned from our national database of medical malpractice claims, the Comparative Benchmarking System (CBS). One way we achieve this is through authoring and supporting research for peer-review publications.