Simulation's Evolving Place in Health Care
Jul 08, 2022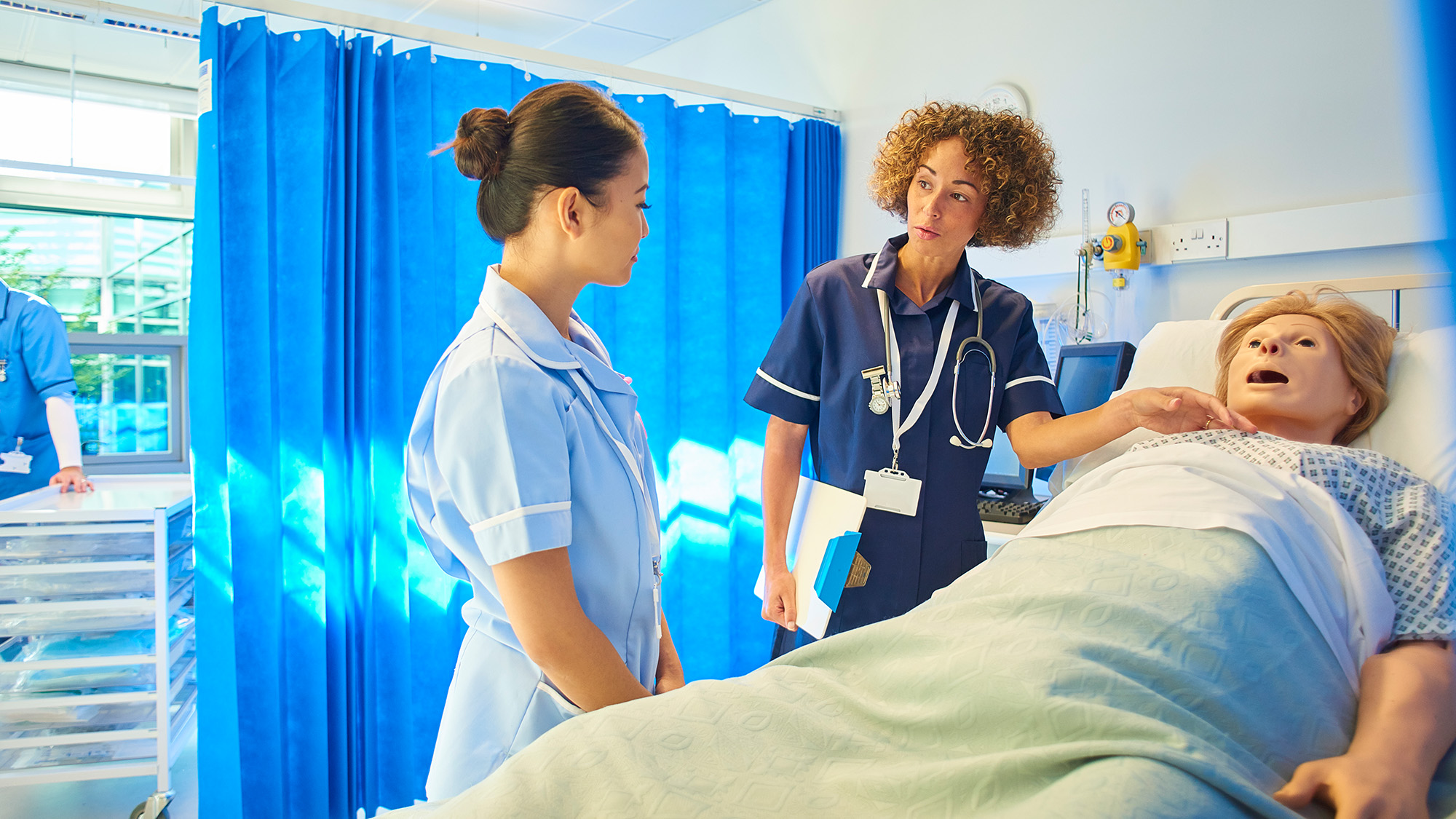 Commentators
Jeffrey Cooper, PhD
Jenny Rudolph, PhD
Peter Weinstock, MD, PhD
Transcript
Where does simulation fit in health care today? Learning and practicing in re-created scenarios without a live patient has long offered safety benefits for patients and providers. People may typically picture mannequins and pretend operating rooms with clinicians role-playing a scenario. But simulation today has evolved to encompass more than that, and its use has grown worldwide.
The COVID-19 pandemic required innovation from simulation leaders. New applications and new techniques mean that medical simulation today is a broader term that describes more possibilities than ever. This year and through 2028, industry business analysts expect double digit growth in a $2 billion market for simulation services, software, and anatomical models.
"We've learned a lot about how to use simulation."
Jeffrey Cooper is Professor of Anesthesia at Harvard Medical School and Massachusetts General Hospital. Dr. Cooper was a pioneer of medical simulation, helping to found the Center for Medical Simulation in Cambridge, Massachusetts in 1994—ushering a movement to bring simulated learning to medical care.
"Simulation is just now beginning to be used much more in much more highly leveraged applications like the readiness training to prepare people for new procedures and to prepare institutions for new facilities. We saw a lot of this in the response to the COVID pandemic."
Indeed, the spectrum of applications for simulation in medicine is growing as technology creates new possibilities. Hospitals have always used simulation in a variety of ways, suited to their needs and their specific cultures.
"It is just...the field has exploded and it has consistently done so over the last, I don't know, 20 years."
Dr. Peter Weinstock is a pediatric intensive care unit doctor at Boston Children's Hospital, Associate Professor of Anesthesia at Harvard Medical School, and Executive Director of the Boston Children's Hospital Simulation Program (SIMPeds). Dr. Weinstock helped steer his hospital's early simulation programs toward an in situ model, embedded in the wards, rather than off-campus.
He says that an expanding body of research into return on investment is now helping to bolster demand for simulation. At the same time, simulation is seen as an effective approach to areas of increasing priority to hospitals, such as, psychological safety, emotional intelligence, and human factors. Even the concepts of what simulation is, can change, according to Dr. Weinstock:
"Even though education fundamentally is always at our core, you're looking at now using simulation for, as you may know, systems design, for example. Using simulators as crash test dummies for architectural plans, for building construction, for facility design, to explore human factors for root cause analysis. We have a large engineering facility, so marrying that with the institution. How do you take an engineering facility that focuses on immersive technologies and build tools that will allow us to improve health care in the institution itself?
So, it's just this kind of broadening view of simulation as an immersive technology and how do you leverage it most effectively to improve the entire enterprise? I think that's more and more becoming the use case, so to speak, of the field, as opposed to a pure education tool."
Jenny Rudolph is an Assistant Clinical Professor of Anesthesia at Harvard Medical School and a faculty member in the Department of Anesthesia, Critical Care, and Pain Medicine, at Massachusetts General Hospital. Dr. Rudolph is Executive Director at the Center for Medical Simulation, and she agrees that simulation training can have an enterprise-wide impact. Drawing on her doctorate in organizational studies and 10 years of research in high hazard industries, she has studied and written about how to create feedback and debriefing conversations in which people can analyze and improve their skills as clinicians and educators. Dr. Rudolph says that her own thinking about the debriefing stage following a simulation or clinical feedback from a supervisor has evolved.
"I used to think that excellent debriefing and feedback conversations were important in their own right in that we want to have performance reviews, debriefings, clinical feedback happen in a way that feels fair and developmental for the learner in the conversation and maintains the relationship, and thereby sustains the confidence of the person leading the conversation. So I used to think that was the primary and most important thing."
But Dr. Rudolph has come to realize that the way they have feedback conversations and do their simulation debriefings affects the culture of a whole unit and entire organizations. When leaders won't even discuss mistakes, or they talk about them in a blaming way, a message to everyone goes further than just the immediate situation and gets picked up by everyone around it.
"In contrast, when I can have brave, open, caring, and nonthreatening conversations, whether it's feedback, debriefing, or speaking up, I gradually strengthen our culture's ability to talk about what matters most. And so, my thinking has shifted as seeing debriefing and feedback conversations as isolated, to seeing them as micro engines of culture change, either for good or for ill."
One innovation to help clinicians de-compress at the end of a shift and target stress and burnout is called "Circle Up." This technique combines peer check-ins and unit debriefs to address how clinicians in the room are doing, so that they can leave emotional challenges at work when they go home.
Dr. Rudolph is realistic about economic forces working against the expansion of medical simulation, especially downward cost pressures stemming from the impact of COVID-19 and staffing shortfalls. But these shortfalls leads to more new providers with more acute patients and fewer experienced clinicians to support and train them. Simulation can be positioned smartly to be part of the solution. Dr. Rudolph says it needs to be employed very nimbly and demonstrate clear value; for example the readiness of new nurses, inter-professional communication on rapid response teams, and improved clinical outcomes.
"Simulation is moving toward new modalities, virtual reality, augmented reality, multiplayer spaces that allow people to practice things that can be done virtually and well, much more cheaply, much more conveniently; and as our digital natives, our kids, grow up, they expect to learn in those environments because that's how they play. So, I think that's pulling for ever greater use and dissemination of simulation."
For Dr. Weinstock at Boston Children's, expanding the definition of what simulation can be and how it can help, is the future. Technology is part of it, such as virtual reality interfaces, but it's not all technical. His group has become the go-to experts for hospital initiatives around safe conversations, psychological safety, active listening and other forms of training and practice in scenarios without a mannequin in sight.
"It's about the user interface. It's about, how does simulation interact with busy clinicians in environments that are only going to get busier moving forward. And that's the secret sauce. That's the "nut to be cracked" is how do we create accessible, ease of use, immersive solutions. And those first words are really critical here, you know, to really change the landscape moving forward.
And so, things like bringing the simulators to the practitioners that we did years ago. VR is going to play a role in that, but even the infrastructure of the program itself, how easily accessible is it? Is it available on the phone? Can they gain access to it there? And how do you anticipate their needs, you know, this whole area of just in time, just in place interventions are a hot topic for us."
CRICO has long incorporated simulation training in its malpractice premium incentive programs for high-risk specialties. CRICO data were used in research by Adam Schaffer and colleagues in the August 2021 Journal Obstetrics and Gynecology that showed associations between simulation training and a significant decline in claim rates.
And CRICO continues to help fund initiatives in the Harvard medical community, including research into the use of mobile vans for simulation, the "Circle Up" end-of-shift check-ins, and the use of live operating room recordings for quality improvement.
I'm Tom Augello for Safety Net.
Safety Net
These episodes can help you promote patient safety in your organization.
See all episodes
About the Series
We've got you.

Our Safety Net podcast features clinical and patient safety leaders from Harvard and around the world, bringing you the knowledge you need for safer patient care.
Episodes
Recent episodes from the Safety Net series.
When a Doctor is Sued: Former Defendant Finds Her Voice
Podcast
A former doctor defendant found meaning after the ordeal despite her lack of preparation or role models. Dr. Gita Pensa, an emergency medicine physician, made it her professional focus to help other physicians through to the other side of the litigation journey.
Boarding Critical Care Patients in EDs: New Guidance from Patient Safety Experts

Podcast

The boarding of critical care patients in the emergency department is an increasing concern because ICUs are often also too full to take them.

Play Episode

An Alert on Cyber Risk for Health Providers: No One is Safe

Podcast

Healthcare providers are facing new threats from online attacks that require new strategies to limit liability, harm to patients, and revenue loss. In spring of 2023, the Academic Medical Center Patient Safety Organization (AMC PSO), issued an updated Patient Safety Alert: Cyber Security and Recovery, available on the CRICO web site.

Play Episode

Medical Error's Stubborn Threat to Hospital Patients

Podcast

A new study that looks at when, where, and how medical errors occur in the in-patient setting is shining a bright light on threats to patient safety and quality in health care. A topline result of a 25 percent error rate for hospital admissions is getting a lot of attention. Lead author David Bates and others explain the implications for everyone in health care from the board room to the bedside.

Play Episode