Patient Voice: Fighting the Fear of a Triple Negative Breast Cancer Diagnosis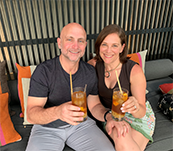 Four years ago, in October of 2016, Jennifer Stiller felt a lump in her left breast. Feeling that lump was the most frightening thing to ever happen to her. "It was a Thursday when I felt it, and I freaked out, because for some reason, for my whole life I have always been petrified of breast cancer."
Suspecting that you may have breast cancer is a frightening thought for many women, and the fear of confronting it may prevent them from getting screened. But what helped Stiller push through that paralyzing fear (along with her friends and family) were the health care professionals who helped her on her journey through treatment.
After performing her self-examination, Stiller immediately called her primary care physician at Brigham and Women's Hospital. During her first exam, her physician stayed calm and unphased by the lump, but took the precaution of scheduling an ultrasound that day. The radiologist was concerned with the test results and recommended an immediate biopsy.
"She [the radiologist] said, 'I think we should do a biopsy right now,' which was incredible because I think part of My fear was based on getting to that diagnosis would take a very long time. As she was doing the needle biopsy, she explained 'You know, if it is breast cancer, it's not like what you used to think it was like. The treatment isn't the same, often times it's very curable.' And I knew that if she was going down this road then she probably thought it was breast cancer."
For Stiller, the radiologist's comfort in a moment of such uncertainty helped to prepare her when she received the news that she had tested positive for triple negative breast cancer. "When I was with that first radiologist for the initial biopsy, she didn't say to me 'Oh don't worry, it's nothing, your doctor will call you,' or 'I can't tell you anything.' She clearly was preparing me when she said, 'Listen, we know how to treat this now.' She eased me into wrapping my head around it."
After receiving her diagnosis, Stiller turned to her friends for help. One friend, a former radiologist at Massachusetts General Hospital (MGH), referred her to Michelle Specht, MD, and the Breast Cancer Team there. When Stiller called, one of the nurses, Gwendolyn Mitchell, LPN, MEd, answered. "She said, 'Don't worry about it, you're going to be fine,' and honestly, hearing her voice was like getting a warm hug."
The positive outlook from the entire MGH team—including nurses, surgeons, pathologists, and radiation oncologists—helped Stiller through the unknowns of screening and diagnosis. Stiller also gives a lot of credit to her medical oncologist, Steven Isakoff, MD, PhD, for going so far out of his way to ensure her diagnostic process and treatment schedule were completely on track. This was made clear when he discovered that the initial imaging of a portion of her lower abdomen was missing, and without it she would not be able to begin treatment. Dr. Isakoff told her she needed one final MRI before beginning her chemotherapy the next day.
" He called me and said, 'I'm having trouble, there are no MRI appointments available, but I am not giving up.' Apparently, he sat there on the computer and scanned everywhere until he found me an MRI at 11 o'clock at night in Chelsea, the night before I was supposed to start my chemo… he was like a superhero! He jumped through hoops just to make the schedule work. It was incredible." —Jennifer Stiller
Stiller's treatment went without any major complications, and after two rounds of chemotherapy and a bilateral mastectomy, she has been going back for check-ups and has an extremely positive prognosis. She shared her thanks and gratitude to the team at MGH for helping her through her diagnosis and treatment and for helping to allay her fears. And for those who may be trepidatious about going in for a screening during the pandemic she offers this advice, "If there's one thing I have learned from all of this, it's that the worst thing you can ever do is let fear make you put something off."
Related Blog Posts
Safety Salute: Brigham and Women's Hospitalist Recognized for Inter-hospital Transfer Research
Blog Post
The transfer of patients between acute care hospitals (known as inter-hospital transfer, or IHT) occurs regularly: over 100,000 hospitalized Medicare patients undergo IHT yearly, with greater frequency among patients who require specialized care. While often necessary, IHT practices vary and can expose patients to gaps in the continuity of care - which can lead to poor and/or incomplete communication regarding care of the patient during transfer.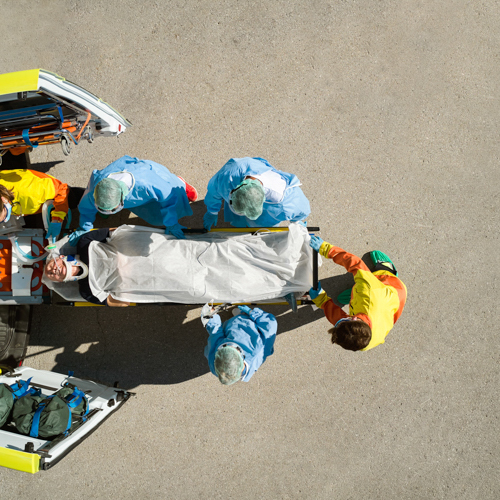 A Rich History of Contributions

Blog Post

The contributions of some of Boston's most important black physicians have often been overlooked, which is why in honor or Black History Month we have chosen to recognize some of the most influential black health care providers in the city's history.