"Not Normal" Pandemic Imperils Health Workers
A public health crisis like no other in living memory. Surgeons helping with medical treatment, retired clinicians coming into work, medical students being graduated early to pitch in. The COVID-19 pandemic is anything but "normal" for providers.
Then there's the illness and death. The CDC currently reports more than 80-thousand infections and 446 deaths among health care workers from limited available data. But a joint project by Kaiser Health News and The Guardian puts the figure as of mid-June at 657 dead health care workers from COVID-19, and 20 percent of all infections in some states.
Obviously the mental and emotional impact on clinicians is large. Dr. Dennis Charney, the Dean of the Icahn School of Medicine at Mount Sinai and President for Academic Affairs for the Mount Sinai Health System, told NBC New York that they expect 25-40 percent of first responders will experience PTSD from the impact of this pandemic.
Many hospitals and practices are reaching out to their own workers to help. CRICO recently spoke with doctors on the front lines helping other providers cope, promoting professional care and offering personal support (Click below to listen to our latest edition of our monthly podcast, Safety Net.)
In Boston, peer support is being added to routine workplace assistance for doctors and nurses for some institutions. At UMASS Memorial Health in Worcester, MA, clinicians in the COVID wards were contacted individually to see how they are doing.
"We all know that the hospitals in Massachusetts have been reporting significant numbers of caregivers who have gotten COVID themselves despite the PPE and the negative pressure rooms and all of the things that are done," says Dr. Stephen Tosi, Chief Medical Officer for UMASS Memorial Health Care, a 991-bed system.
"Some physicians and advanced practice clinicians, and residents and fellows—all of whom are pitching in—some of them go home and self-quarantine in their own homes," Dr. Tosi continues. "They sleep in a guest room. They sleep on a cot in the basement. They see their children through the glass of a sliding glass door because they don't want to take the risk of bringing that home to their family."
One doctor from Massachusetts General Hospital joined a neighbor who works in healthcare to set up a nation-wide free on-line counseling service for doctors and nurses. It's called The Emotional PPE Project, and it's up and running in nearly 40 states with 275 volunteer licensed therapists.
Dr. Daniel Sadawi-Konefka is an anesthesiologist overseeing 80-plus residents at Massachusetts General Hospital in Boston. Emotional PPE is essential for frontline COVID-19 workers, he says, because "what we're going through now is not normal, it shouldn't feel normal, and we can't just press on and ignore it."
The overriding emotion for Dr. Sadawi-Konefka and his cohorts isn't necessarily fear, it's sadness.
" How do I pick which one of my children get to say goodbye to their mother? " —Dr. Daniel Sadawi-Konefka
"I think that we're used to, unfortunately, seeing not everyone do well, but the number of people who don't do well is higher now than it typically is and when people die, it's different than when they normally die. Hospital restrictions typically don't allow a lot of people, even at end of life, and that's really challenging. I remember a patient of mine who, it became clear that they were not going to survive and having a conversation with her husband, and he asked me, because we could only allow one person to come in, he asked me 'how do I pick which one of my children get to say goodbye to their mother?'"
During this period of additional stress, CRICO in the Harvard system created a COVID-19 Resource page to deliver support and reassurance, and to tell members about available resources, coverage, and liability protections.
Related Blog Posts
Telehealth Gone Wrong? Not After These Videos
Blog Post
Virtual visits can involve patients calling into their video appointment from the supermarket…fuzzy computer screens during examinations…even doctors "visiting" the wrong patient. These challenges and more present additional clinical and liability risks to busy practices delivering telehealth.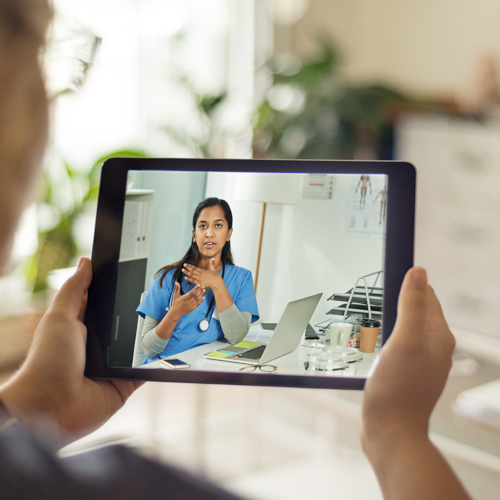 Back To Court after COVID: Malpractice Cases Take a Back Seat

Blog Post

A lingering pandemic and the powerful need to re-open courtrooms are bumping up against each other at the start of Autumn 2021. After a further opening and lifting of most restrictions during the summer, where do things stand? CRICO caught up with one of the top defense attorneys in Boston's medmal world for an interview on our "Safety Net" podcast.

COVID Delays New Fed Rule Opening Clinical Notes to Patients

Blog Post

The goal of the act is to provide better provider/patient communication, improve provisions for patient rights and engagement, and reduce patient safety risk. It includes requirements that patients have access without extra charge to all of their medical records. These include clinical notes regarding: consultation, history and physical, procedure, progress, and discharge summaries, as well as imaging/lab/pathology report narratives.

Predicting Case Outcomes: Medmal Analysis Turns to the Dollars

Blog Post

It's time for a spotlight on three factors in medical professional liability cases: a lack of a protocol or failure to follow one, patient assessment shortfalls, and documentation problems