Training the Next Generation of Physicians While Protecting the Patients of Today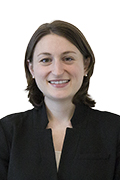 CRICO invited Dr. Laura Meyers to offer insights on a recently released research study that examined medical malpractice claims involving physician trainees. As co-author of this study, we were interested to hear her perspective. The following post explains the process and findings of Dr. Meyers and her colleagues.
Every July, medical school graduates enter onto the hospital wards to become clinically trained. As junior physicians, they have the ability to write prescriptions but are learning how to function within a hospital system to diagnose and manage patients appropriately.
When I was doing my clinical training, I felt that I had adequate supervision — people to ask when I had a question or when I felt the patient needed someone to evaluate him/her who had more experience than me. However, I realized that may not be the case in some training programs, since striking that balance of autonomy and oversight is an ongoing challenge in the world of medical education.
How commonly are physician trainees involved in harm events that lead to malpractice claims?
It is exceedingly rare. In a study published in Academic Medicine in December 2019, we used the CRICO-operated Comparative Benchmarking System, which contains ~30% of all malpractice claims in the United States. Of >30,000 claims closed across the United States, only 581 met our criteria for having a physician trainee involved in the harm event. Most were residents (~80%) as opposed to fellows.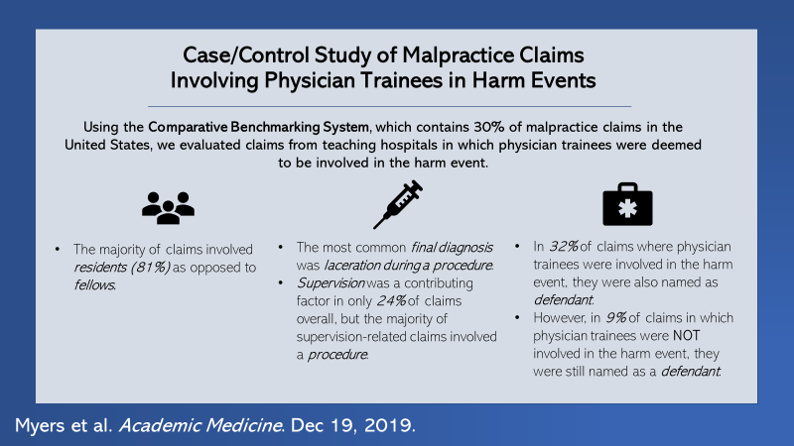 What motivated this study to be done?
As a graduate of the CRICO/Harvard fellowship in Patient Safety and Quality, I wanted to understand what types of events were occurring across the country that involved physician trainees in order to design prevention strategies. Because both patients and providers are affected personally and professionally when harm events occur, it is in everyone's best interest to prevent the events from happening in the first place. Our case/control study compared claims involving physician trainees with claims not involving physician trainees.
What are the themes that arise in malpractice claims involving physician trainees?
We found that the most common issue of claims involving physician trainees was laceration during a procedure. Interestingly, there was poor supervision in only 24% of claims overall but the majority of claims with poor supervision involved a procedure. We took this to mean that procedural safety should be at the forefront of prevention efforts.
Many programs across the country have implemented simulation programs which can enhance trainees' technical and communication skills. I believe that simulation allows trainees to learn in a safe environment by practicing prior to coming into direct contact with patients. I also think the ACGME's framework for graduated responsibility can be quite helpful in outlining which procedures (or parts of procedures) are appropriate for various training levels and experience. Senior residents can perform different aspects of care than an intern, for example.
What are the authors' next steps?
We are proud of the work we did in this case/control study and are actively working on other studies using the Comparative Benchmarking System. Our immediate goal is to increase awareness among training program leaders and physician trainees. In particular, we hope that directors of procedural training programs will reflect on their institution's experience and determine if there are ways that they can further promote patient safety. It is our duty to protect the patients of today while teaching the physicians of today.
Related Blog Posts
Good Catch! Building the Framework for Ambulatory Safety Nets
Blog Post
Patients frequently experience a delayed diagnosis due to a lack of follow-up. Preventing these gaps in communication is what hospitals are trying to mitigate through the implementation of ambulatory safety nets.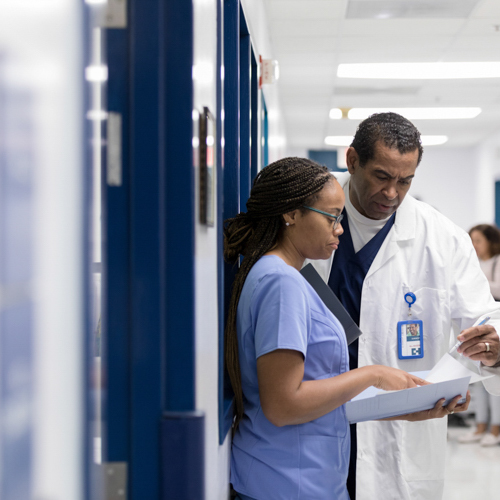 The SafeCare Study

Blog Post

Results clearly demonstrate a need for better tools, increased measurement of patient harm, and better implementation systems.

Telehealth Gone Wrong? Not After These Videos

Blog Post

Virtual visits can involve patients calling into their video appointment from the supermarket…fuzzy computer screens during examinations…even doctors "visiting" the wrong patient. These challenges and more present additional clinical and liability risks to busy practices delivering telehealth.

Structured Patient Handoffs Can Help Avoid Malpractice Cases

Blog Post

Using Candello data, researchers at Boston Children's Hospital demonstrated a link between patient handoff failures and malpractice cases. Further, they showed that, among cases involving a communication error, 77 percent of them could have been prevented by use of a structured handoff.