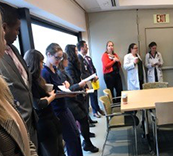 Newton-Wellesley Hospital and Brigham and Women's Faulkner Hospital Use Daily Huddles to Advance Patient Safety.
Many health systems today follow a culture of safety. And for a growing number of them, daily safety huddles are becoming an integral part of these efforts. Safety huddles bring staff members from all areas of the hospital together for a brief check-in where each department representative has a chance to share any pressing concerns—from a slippery floor to defective equipment—and head off potential safety issues.
That's why this Safety Salute goes to two organizations that are leading the way in this area: Newton-Wellesley Hospital and Brigham and Women's Faulkner Hospital. The goal for each organization is similar, to create a regular communication forum that brings all of the key players together to be proactive in creating the safest environment possible. Both organizations' efforts are also backed by strong leadership support; a factor which plays a big part in their respective success. But each hospital has also personalized their huddles to meet specific needs, cultures, and circumstances.
Newton-Wellesley Hospital's DaSH Initiative
Newton-Wellesley Hospital started its daily safety huddle (DaSH) in October of 2017 and it's held 7 days a week, 365 days a year. This daily gathering, which lasts on average 12 minutes on weekdays (and about 6 on weekends and holidays), allows management and representatives from 45 different areas to quickly and decisively manage safety concerns across the organization, which includes the hospital's main campus and more than five offsite locations. According to Janet (Jodi) Larson, MD, F.A.C.P., Chief Quality and Experience Officer and Senior Vice President at Newton-Wellesley Hospital,
" The initiative is part of our extensive work toward becoming a high-reliability organization and it promotes situational awareness around safety issues that have occurred over the past 24 hours, or are anticipated in the next 24. "
DaSH provides a forum to raise such safety issues in real-time and offers a means to hold everyone accountable to do their part.
DaSH in Action: "We had a hospital bed that deflated in one unit while a patient was on it. We thought it was a one-off that one of our nurse directors reported, but in our huddle, the nurse reported it," Dr. Larson said. Not long after, another bed on a separate unit also deflated. In the past, this would also have been viewed as a one-time issue. "But because we communicated, we were able to connect the dots and realize there was a much bigger problem," she said.
As a result, the hospital contacted the bed vendor and found out that the nurses were not using the bed mechanism properly. The vendor trained the initial nursing director and she then educated the staff in her unit and other nursing directors so that everyone knew what to do.
Dr. Larson pointed out this is just one of many examples of how DaSH is increasing communication and keeping small issues from becoming bigger ones on a regular basis. The model has been so well-received that some of the other areas of the hospital, including the lab and the emergency department, are now also holding their own huddles, too.
"DaSH has become such an important part of our efforts that I don't know how we ever lived without it," she stressed.
Brigham and Women's Faulkner Hospital's Daily Safety Huddle
The Daily Safety Huddle at Brigham and Women's Faulkner Hospital has also been an integral part of the organization's broader safety efforts since it was launched at the end of 2018. About 30-40 staff members attend this forum, which is held on weekdays and typically lasts for about 11 minutes, according to Christi Clark Barney RN, MSN, Executive Director of Patient Safety, Quality, Risk Management, Infection Control, CDI, and Clinical Compliance at Brigham and Women's Faulkner Hospital.
" Our Daily Safety Huddles provide a valuable opportunity to identify safety concerns and obstacles to managing patient care and flow in a safe and timely manner. "
Each meeting begins with shout outs, celebrations, and global announcements before delving into each area's report. She pointed out that this provides an opportunity for everyone to hear what others are facing. Such situational awareness can ultimately lead to improved patient safety and efficiency.
Daily Safety Huddle in Action: After two defective ambu masks were found on code carts within a short time period, the issue was reported at the Daily Safety Huddle. The masks were partially deflated, which meant they would not seal around a patient's mouth during an emergency. Meeting attendees were asked to check their own units to see if any other defective masks existed. By spreading this message so broadly, the staff searched and found several more defective masks, which they removed before they could pose a serious safety risk during a crisis. The hospital also decided to change mask vendors for a more reliable product that actually came at a cost savings. That made this a real success story on several levels. They further informed the other Partners hospitals to share the risk issue that was identified.
In addition, the huddles provide an important planning forum for the organization. "Brigham and Women's Hospital [the main campus for the organization] also holds a similar huddle half an hour before ours at the Faulkner campus," Ms. Barney said, adding, "This allows us to get their status information so we can plan as a system for the day. For instance, if the main hospital's emergency room is full, we can see if we can help expedite admission of some of their cases."
Faulkner also uses the meeting time for staff to prioritize their own caseloads and determine how to work around areas that are short-staffed or over booked. "All of this situational awareness really helps us to work as a coordinated team," she said. In addition, by having everyone together in one place at one time, after the main huddle is over, smaller groups of people can review any safety issues identified or quickly touch base with their colleagues as needed to get things done very efficiently.
With so many people increasingly reliant on technology to communicate with their colleagues today, Ms. Barney pointed out that by creating a quick daily opportunity for Faulkner's staff to talk face-to-face during the Patient Safety Huddles, this provides an important way to maximize communication throughout the organization. This goes a long way toward advancing patient safety.