Signals from the Tip of the Iceberg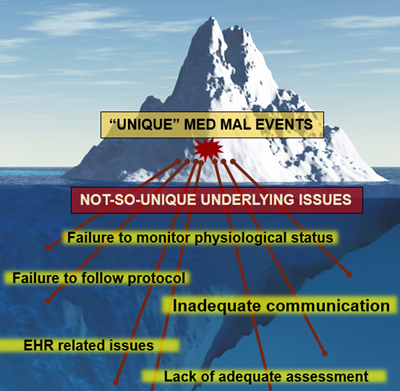 We often talk about medical professional liability (MPL) data as being the tip of the iceberg—it can signal or alert us to risk vulnerabilities in a practice or organization. But a low case volume can make it difficult to truly validate the signal and understand the contributing factors that led to these events. When organizations have low case volume (thankfully!) they often look to leverage broad, peer comparisons to see what lies beneath the surface and understand the not-so-unique issues driving risk.
DATA CASE STUDY: SMALL DATA, BIG IMPACT
Situation
An organization saw an increase in a few key malpractice cases alleging negligence in performing laparoscopic surgery. Patient safety leaders needed a way to:
determine if these few cases were an aberration or a signal of a broader problem (i.e., the tip of the iceberg),
understand what was driving the harm, and
formulate how they should respond.
Method
Its partnership with CRICO Strategies enabled this organization to query the national Comparative Benchmarking System (CBS) for insight:
Was this issue prevalent across a larger data set?
Across their peers' cases, were the complications also avoidable like theirs?
The larger CBS dataset provided the organization a way to validate that their few cases were signals of an issue occurring more broadly on a national scale, and analyze the factors—across a much larger sample size—that were contributing to these complications.
Results
This organization—and the national peers against whom it benchmarked—identified technical performance as the main driver behind the laparoscopic surgery cases they were seeing. Specifically, the national CBS data validated that variability in training and/or experience led to preventable complications. With this new information, leadership allocated funding to support a validated and consistent technical training program for all general surgeons: Fundamentals of Laparoscopic Surgery. The program's positive results led surgical leaders to adopt this training as a requirement for credentialing and privileging for all General Surgeons.
Most Prevalent Technical Performance Issues in Laparoscopic Surgery-related Cases


Contributing Factor Detail:
Technical Performance

Organization "A"
Cases

CBS National Peers
Cases*

Technical problem resulting in a known possible complication

11
324
Misidentification of an anatomical structure

7
155
Poor technique

7
103
Inexperience with procedure

3
17

*A case will often have multiple factors identified.
N=648 MPL cases closed indemnity year 2007–2016 with general surgery as the primary responsible service and laparoscopic as the procedure.
Summary
By leveraging comparative data to evaluate the significance of several cases—which could have otherwise been viewed as "lightning strikes" that may not occur again—this organization was able to understand key drivers of harm and develop a targeted and sustainable intervention to improve patient safety and decrease preventable harm.
WHY PARTNER WITH CRICO STRATEGIES?
Powerful Analytics: Strategies manages a rich database of more than 400,000 cases—with deeply coded causation factors—that can inform risk management strategy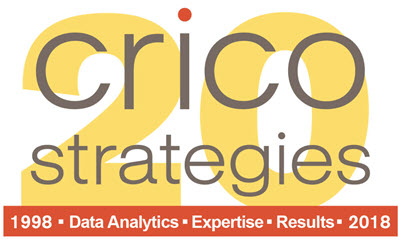 Expertise: CRICO has 40 years of experience as a trusted partner to the Harvard medical community and 20 years in the national arena
Results: We partner with the best in the business to publish new data and convene regularly with our members and national clients to tackle current issues in MPL risk and patient safety
Related Blog Posts
The SafeCare Study
Blog Post
Results clearly demonstrate a need for better tools, increased measurement of patient harm, and better implementation systems.
Telehealth Gone Wrong? Not After These Videos

Blog Post

Virtual visits can involve patients calling into their video appointment from the supermarket…fuzzy computer screens during examinations…even doctors "visiting" the wrong patient. These challenges and more present additional clinical and liability risks to busy practices delivering telehealth.

Best Practices for Employment Practices Liability Reporting

Blog Post

Reporting processes for complaints of unprofessional behavior vary across and within CRICO member organizations. This variability exposed an opportunity to identify practices that allow for a fair, prompt, consistent, and well-coordinated response to complaints of unprofessional behavior. Learn how you can manage wrongful acts in your workplace.

Structured Patient Handoffs Can Help Avoid Malpractice Cases

Blog Post

Using Candello data, researchers at Boston Children's Hospital demonstrated a link between patient handoff failures and malpractice cases. Further, they showed that, among cases involving a communication error, 77 percent of them could have been prevented by use of a structured handoff.