Preventing Fall Related Injuries
The Joint Commission released "Sentinel Event Alert 55: Preventing falls and fall-related injuries in health care facilities" on September 28, 2015. The alert underscores the prevalence, outcomes, and costs of preventable falls resulting in patient injury. As the report notes, "hundreds of thousands of patients fall in hospitals, with 30-50% resulting in injury," with "the average cost [equaling] $14,000."
Earlier in 2015, the Academic Medical Center Patient Safety Organization (AMC PSO), a component entity of The Risk Management Foundation of the Harvard Medical Institutions Incorporated, pursued similar efforts (Patient Safety Alert 23) on the seriousness of and preventative measures for patient falls. Both alerts highlight inadequate patient assessment and communication failures as core contributing factors to patient falls, in addition to absent, inadequate, or non-adherence to existing policies and procedures.
Both the sentinel event and AMC PSO alerts list several preventative strategies that providers may deploy against this event type. Utilization of standardized and validated assessment scales, interdisciplinary prevention teams, and standardized communication protocols top both lists as essential interventions. While the sentinel event alert concludes with a valuable list of provider resources and toolkits, the AMC PSO focused the intervention portion of its alert on "Fall TIPS (Tailoring Interventions for Patient Safety)," led by Patricia Dykes, PhD, a senior research scientist at Brigham and Women's Hospital's Center for Patient Safety, Research, and Practice. Dr. Dykes' study "demonstrated significant potential" with study outcomes showing "90 [prevented] falls [per unit per year]." Further information on Fall TIPS can be found here.
The AMC PSO suggests rigorous, science-based methodologies, like Fall TIPS, as a demonstrated strategy to assist providers in preventing patient falls. Please visit the AMC PSO's Patient Safety Alert page to request and download the entire library of alerts.
Related Blog Posts
Good Catch! Building the Framework for Ambulatory Safety Nets
Blog Post
Patients frequently experience a delayed diagnosis due to a lack of follow-up. Preventing these gaps in communication is what hospitals are trying to mitigate through the implementation of ambulatory safety nets.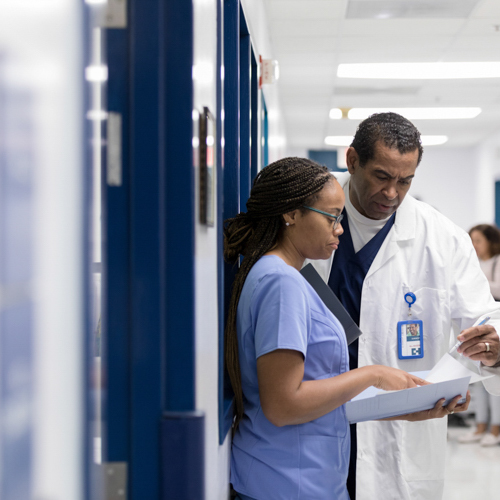 The SafeCare Study

Blog Post

Results clearly demonstrate a need for better tools, increased measurement of patient harm, and better implementation systems.

Telehealth Gone Wrong? Not After These Videos

Blog Post

Virtual visits can involve patients calling into their video appointment from the supermarket…fuzzy computer screens during examinations…even doctors "visiting" the wrong patient. These challenges and more present additional clinical and liability risks to busy practices delivering telehealth.

Best Practices for Employment Practices Liability Reporting

Blog Post

Reporting processes for complaints of unprofessional behavior vary across and within CRICO member organizations. This variability exposed an opportunity to identify practices that allow for a fair, prompt, consistent, and well-coordinated response to complaints of unprofessional behavior. Learn how you can manage wrongful acts in your workplace.