August Safety Salute | Brigham & Women's Faulkner Hospital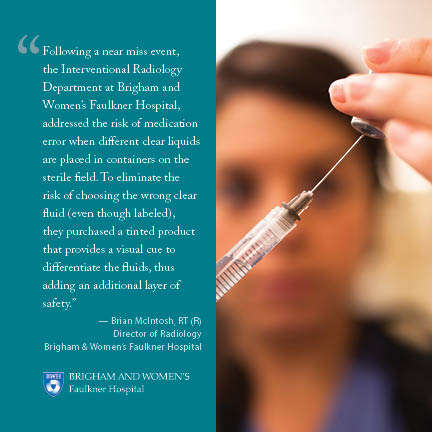 There is a tangible benefit when hospitals encourage and support staff who report near misses—or good catches. It provides valuable information about systems, processes, and other aspects of patient care that may pose a potential patient risk. This front line information delivers insights which can then lead to organizational changes to mitigate the identified risks. An effective example of this was shared with us by our colleagues at Brigham and Women's Faulkner Hospital (BWFH).
" Following a near miss event, the Interventional Radiology Department at Brigham and Women's Faulkner Hospital, addressed the risk of medication error when different clear liquids are placed in containers on the sterile field. To eliminate the risk of choosing the wrong clear fluid (even though labeled), they purchased a tinted product that provides a visual cue to differentiate the fluids, thus adding an additional layer of safety. "
— Brian McIntosh, RT (R), Director of Radiology, BWFH
We salute the members of the Interventional Radiology department at BWFH who recognized this potential risk to their patients and implemented a simple and effective solution others might find equally helpful.