Diagnostic Error: The Conversation Continues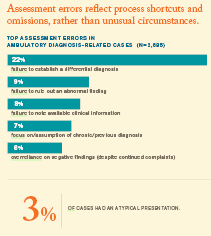 Danielle Ofri's recent New York Times article on diagnosis-related errors offers personal insight into the context in which primary care providers (PCPs) strive to figure out what is wrong with Mrs. Jones. As Ofri points out, PCPs must contend with the complexity of their patient panels, the vast array of differential diagnoses, and the relentless pressure of time to turn a limited amount of (often ambiguous) information into a definitive answer.
" If I had the luxury of an hour with each patient, I would have the time to carefully sort through every possibility. But the reality is that I, like most doctors, have five to 10 minutes to push the majority of diagnoses to the bottom of the list, come up with the most likely few at the top — being careful, of course, to keep in the rare but life-threatening possibilities — and then explain to the patient what I think. " -Danielle Ofri, MD
What most often gets in the way of getting to the right answer is communication. The absence of, or confusion about, critical knowledge of a patient's history, complaint, symptoms, test results, or status changes will hinder even the best diagnostician. Analysis of CRICO's Comparative Benchmarking System (CBS) data shows that, among malpractice cases in which a primary care provider was named, 38 percent reflect some form of miscommunication—both among providers, and between providers and patients. While the hindsight employed to analyze malpractice cases helps us determine what information was absent, the picture painted by Ofri's account of a "bursting-at-the-seams" day in her clinic offers abundant insight into why opportunities to seek, share, or grasp the importance of that information are often missed.