Screening for Patients without Colorectal Cancer Symptoms
You can click on each risk area in stage 2 for more detail.
Screening Patients without Symptoms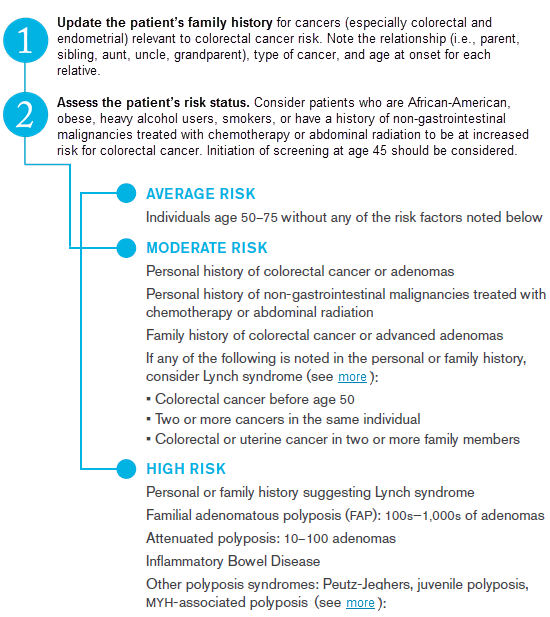 Bowel Preparation
The adequacy of the colonoscopy preparation is key to a high-quality colon cancer screening program. For patients with inadequate prep, discontinue the procedure and order a repeat colonoscopy within one year.
Provide written, age and reading-level appropriate, instructions.
The Gastroenterology office or Endoscopy unit should have systems to manage patient questions about bowel preparation and document any related education.
A split-dose bowel prep provides better preparation success.15 The preparation is started the night prior to the procedure, then a second dose is taken 4–6 hours before the scheduled colonoscopy time. For patients who fail to clean the colon adequately, a more extended bowel prep (over two days) should be considered. The regimen for an extended bowel prep should be provided by the gastroenterologist.
Consider using a low-residue diet prior to the procedure.
Endoscopists should always rate and document the bowel prep. Ideally a scoring system should be used (e.g., Boston Bowel Prep Scale)31 or adequate /inadequate. Adequate indicates that lesions 5mm or greater should have been seen.
Screening Intervals
The diagnosis of colorectal cancer in the interval between a negative screening and the next scheduled screening is a major challenge for providers and patients. Such interval diagnoses are more susceptible to an allegation of negligent care.
Interval recommendations following a normal colonoscopy or flexible sigmoidoscopy should be guided by the adequacy of the bowel prep, with an inadequate prep repeated within one year and an adequate prep at routine intervals.49
The gastroenterologist must document the recommended interval.
Primary care providers should question the interval if it is not documented.
Coordination of Care
Patient safety relies on multiple providers clarifying roles and responsibilities to each other and to the patient. Communicate the follow-up plan (including screening intervals) to the patient and the responsible providers.
More CRICO Guidelines or Algorithms
CRICO decision support tools.
General Informed Consent Guidelines
Guideline
A document to assist institutions in reviewing policies, procedures and forms relative to obtaining and documenting informed consent.