Clinicians should use this decision support tree for follow up on a screening mammogram. This is not appropriate for women with breast complaints. The BIRADS number key follows this chart. Also refer to the recommendations for screening by age.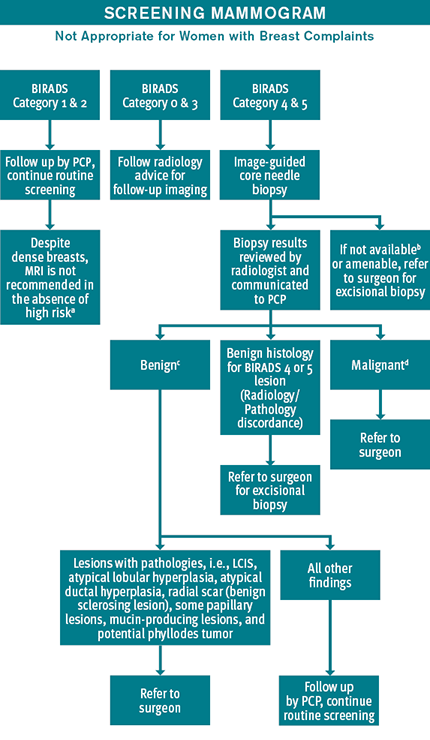 ---
Screening by Age
Screening recommendations for patients at usual risk vary among experts. The following guidance is based on the 2016 USPSTF Recommendations.
Women 40–49 years old should be engaged in discussions regarding the screening options and recommendations related to their breast cancer risk status.
Women 50–74 years old should be screened bi-annually.
Women age 75 or older should be engaged in shared decision making regarding the continuation of screening, with consideration for overall quality of life.
Dense Breast Tissue
Women with normal or benign findings on mammogram who are identified as having dense breasts should have access to information explaining the impact of density on their overall breast cancer risk (and on the ability to detect cancer), and the risks and benefits of any follow-up screening options.
Breast tomosynthesis has slightly better sensitivity than digital mammography and fewer callbacks/false positives for women with dense breasts.
Current data do not support the use of whole breast ultrasound or MRI as screening tools for women at usual risk for breast cancer with or without dense tissue or numerous calcifications.
American College of Radiology Breast Imaging Reporting and Data System (BIRADS)
0


Assessment is incomplete; additional imaging needed


1


Negative


2


Benign finding


3


Probably benign finding—short interval follow-up suggested. Probable risk of breast cancer 2%.


4


Suspicious abnormality—biopsy should be considered. Probable risk of breast cancer:

a) low suspicion (<15%)
b) intermediate suspicion (15–60%)
c) high suspicion (60–95%)




5


Highly suspicious of malignancy—do biopsy. Probable risk of breast cancer is greater than 95%.


6


Known biopsy-proven malignancy—appropriate action should be taken.


Footnotes
| | | |
| --- | --- | --- |
| a. | | MRI is not required for all dense breasts. |
| b. | | Patients should be informed about their options for image-guided core needle biopsy. |
| c. | | Consider referral to surgeon for excision of mass >2cm. |
| d. | | Ductal carcinoma in situ or invasive cancer. |
See Also
More CRICO Guidelines or Algorithms
CRICO decision support tools.
General Informed Consent Guidelines
Guideline
A document to assist institutions in reviewing policies, procedures and forms relative to obtaining and documenting informed consent.