Rest Insured
Sep 27, 2013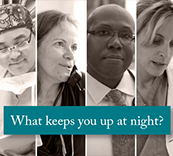 The health care community could probably use a good night's sleep. But the "care" part of health care is a constant presence, even after the workday is done. From the exam room to the stock room to the board room, clinicians, CIOs, and CEOs are being kept awake at night with concerns about what happened earlier today or what might go wrong tomorrow. Indeed, the question, "What keeps you awake at night" has become a patient safety divining rod, helping us identify risks beneath the surface of daily practice routines. Thoughtful answers can alert us to bad systems, bad designs, or bad habits that might put patients at risk for an adverse event and put providers at risk of a malpractice allegation.
That, of course, is another thing that might cause physicians, nurses, and other members of health care teams to lie awake in bed. Indeed, malpractice allegations are a legitimate concern, although several studies show that physicians worry about being sued at a rate much greater than actual experience.1 Statistics may not be enough to stop you from worrying about being sued, but your medical professional liability insurance should provide some peace of mind.
Certainly, no one wants to harm a patient and no one wants to be sued for malpractice, but no one who practices medicine is beyond the reach of human error, systems failures, or litigation. If risk does become reality, insurance will provide a backstop to enable all parties to rely upon a civilized resolution process. You will be able to continue to work, to see patients. You will have the support of insurance and legal experts operating in what is, most likely for you, foreign territory. You will be able pay the bills and be there for your family, colleagues, and community. CRICO and other proactive insurers add another level of protection by mining malpractice data and deeply analyzing individual events in order to identify patterns and promote practical recommendations for safer care.
If you are named in a malpractice case—even with great insurance—sleepless nights are understandable. They are also an indication that you might need some help coping with the underlying stress. Support programs for clinicians involved in adverse events or facing a malpractice allegation are often available through your employer (or insurance provider); private short-term counseling is always an alternative. Being able to express your feelings and normalize your anxiety is often a crucial step toward a better re-entry into practice, better personal and social health, and a better night's sleep.
Additional Materials
Reference
1 Carrier ER, Reschovsky JD, Mello MM, Mayrell RC, Katz D. Physicians' fears of malpractice lawsuits are not assuaged by tort reforms. Health Aff (Millwood). 2010;29(9):1585–92.
Latest News from CRICO
Get all your medmal and patient safety news here.